Strategic Sourcing
Promote Your Brand and Drive Sales Revenue
When you work with Goodwill to increase your business, you form a bond with a respected brand that has existed for more than 100 years.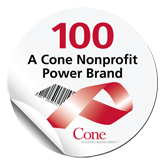 Goodwill is one of the nation's top five most valuable and recognized nonprofit brands and the second largest nonprofit organization in the United States, according to Forbes.com.
Aligning with us, allows your organization to expand its sales revenue and reach audiences it may otherwise leave untapped.
Find Your Solution
2012 Statistics
Goodwills spent over $1.7 billion on products and services for their retail locations — products ranging from hangers and cleaning supplies to cellular service and truck rentals.
We collectively provided employment, job training, work placement services and other community services to 6.7 million people in the United States and Canada. Read More»
Disclaimer
Goodwill Industries International (GII) markets sponsorship, partnership, vendor and tradeshow opportunities to organizations that have goods and services that may benefit Goodwill member agencies. Each Goodwill agency operates independently and makes its own purchasing decisions. An organization's affiliation as a sponsor, partner, vendor or tradeshow exhibitor with Goodwill does not imply that GII favors one company over another.