Up to Some Good
Posted: December 3, 2013
Goodwill Industries of Northeastern Pennsylvania (Scranton) held their first runway show earlier this fall. A local banquet facility was the setting for an evening of fun, fashion and awareness. More than 200 people were in attendance for the inaugural event. The agency showcased the great product lines from their five retail stores currently in operation.
Continue Reading »
---
November 26, 2013
November 19, 2013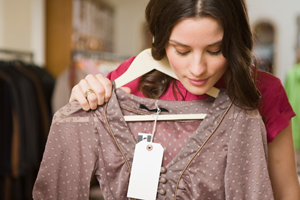 November 12, 2013
---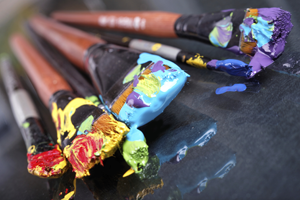 Paint brushes with paint on themOn October 24, Goodwill Industries of the Conemaugh Valley (Johnstown, PA) joined forces with the Bottle Works Ethnic Arts Center to host The Art of Recovery, an art exhibit celebrating the journey to mental health and wellness. More than 80 guests attended the event, including practitioners, family members, participants and community members.
By
Marisa Harriston
Posted: November 5, 2013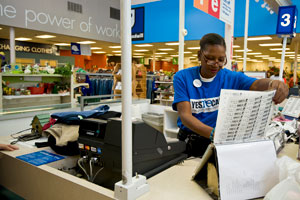 Goodwill of the Heartland (Iowa City) has been recognized as one of the Top 100 Workplaces for 2013 by the Des Moines Register. The agency was honored at a ceremony last month. The rankings are based solely on employee opinions from an anonymous survey of around 80,000 respondents conducted by WorkplaceDynamics. The survey of companies across Iowa asked employees to share their satisfaction with their workplace, including what is most important to them and how their employers rate on these priorities.
By
Marisa Harriston
Posted: October 29, 2013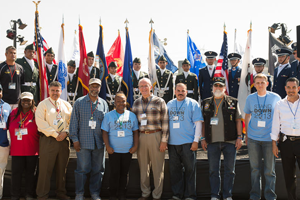 Goodwill Southern California (Los Angeles), along with the Department of Veterans Affairs and more than four dozen community partners, held its first Veteran Stand Down on October 10-11, at Los Angeles Historic Park. The event aimed to meet the basic needs of attendees by providing a variety of free services including meals, clothing, haircuts and makeovers, health screenings, VA and Social Security benefits counseling, and referrals to other services such as housing and employment for veterans and their families.
By
Marisa Harriston
Posted: October 22, 2013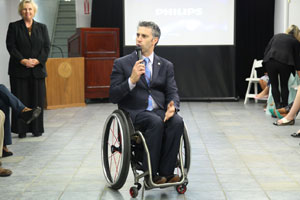 Goodwill NDEAM Fashion Show 1Goodwill Industries of Greater New York and Northern New Jersey (Astoria) held its second annual fashion show to kick off National Disability Employment Awareness Month (NDEAM) on October 1 at the agency's East Harlem store. Goodwill Suits You 2013 was coordinated in conjunction with the New York City Mayor's Office for People with Disabilities using merchandise selected from local Goodwill stores by six popular fashion bloggers.
By
Marisa Harriston
Posted: October 17, 2013
This past weekend students from Ohio State University burned the midnight oil in an effort to encourage Goodwill Columbus (OH) employees to adapt healthy behavior through a mobile app. The development of the app occurred during a 24-hour "Code for Good" challenge sponsored by JPMorgan Chase and Co. "Code for Good" tasks students majoring in computer science, engineering and other related programs to create computer software solutions to the issues of social-service organizations. A total of about 70 students from 11 different colleges participated in the most recent event.
By
Marisa Harriston
Posted: October 8, 2013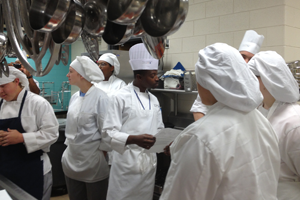 The Helms College Augusta Campus recently celebrated its first graduating class. Participants completed a culinary education program at the college, which is operated by Goodwill Industries of Middle Georgia and the CSRA (Augusta/Macon). A total of 10 students took part in an informal ceremony to recognize their accomplishments on September 19.
By
Marisa Harriston
Posted: October 1, 2013