My Story: Autum Beel
May 17, 2010 | By Jenni B. Baker |
Subscribe to "My Story" RSS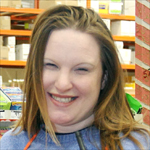 Autum Beel is a 2010 Goodwill Industries International Graduate of the Year.
My ex-husband went to prison for drugs. When you're with somebody for nine years and they go away, you fall into a deep depression. I just stopped caring. I stopped paying the bills and I started getting higher more to try to hide my feelings. I ended up losing my housing and giving my kids away.
Before I knew it, I was in this big black hole that I couldn't get out of. I realized I should have been doing the right thing and trying to fight for my family instead of sitting there getting high. I did not want this kind of life, and I wanted my children back. I decided I was done.
I saw a Seattle Goodwill Industries® truck one day that said "Jobs change lives." I always thought, "What does that mean?" I came in and applied for the customer service retail program. I've always liked retail, but I needed to learn new customer service skills. I also needed to learn math skills and computer skills. They gave me register time, and I got to work in the store so I wasn't so nervous about being around people.
I am now a head cashier at Home Depot. I like my job very much. I wake up every morning happy I get to go to work. I like to have something to occupy my time. I like a challenge. Home Depot's been extremely supportive to that. I work really hard and they appreciate me here.
I quit drugs cold turkey. I've been clean and sober now for three years, and I've been doing really good. I found my children and, ever since, I've been trying to be the best mom I can be. I've never been as happy before in my whole life.
Hear more stories from people like Autum. »
Subscribe on iTunes
---
4 Comments
Add a Comment*
*Your comment will be held for moderation until approved. For questions about Goodwill programs and services, please use our locator and contact your nearest Goodwill headquarters.