My Story: Barbara Delbridge
June 14, 2010 | By Jenni B. Baker |
Subscribe to "My Story" RSS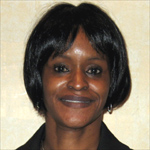 I came to be involved with Goodwill Industries® Serving Central Virginia and Hampton Roads in 2006, when I came home from a correctional facility. I had to apply for Temporary Assistance for Needy Families (TANF) services because I had no income, and no means to take care of my daughter and myself. Upon getting TANF, they introduced me to the Transition to Independence and Employment (TIE) Program, which was located inside the Goodwill Industries.
I stayed in the TIE program for three weeks, and that's when I sought employment working in the production area of Goodwill's main plant, where I priced items for retail stores. I stayed there a little over a year. Now I am the One-Stop Career Center liaison for the Workforce Investment Act (WIA), and I also do outreach service for state and federal correctional facilities.
Goodwill® allowed me the opportunity to come and be an encouragement for individuals that have disadvantages and challenges. Because of my own circumstances, they allow me to talk with individuals and help them get reacclimated back into the work world. Our WIA services allow 500 people a week to get retrained to get back to work.
I'm grateful and thankful to Goodwill for allowing me to be that individual to help encourage individuals and give back to my community.
Hear more stories from people like Barbara. »
Subscribe on iTunes
---
9 Comments
Add a Comment*
*Your comment will be held for moderation until approved. For questions about Goodwill programs and services, please use our locator and contact your nearest Goodwill headquarters.