My Story: Bill Johnson
September 13, 2010 | By Jenni B. Baker |
Subscribe to "My Story" RSS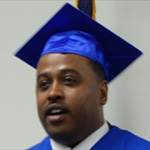 Bill Johnson is a graduate of Goodwill® of Greater Washington's Green Pathway DC Construction Training Program
I first came to
Goodwill of Greater Washington
because I was bouncing around from job to job. I was a warehouse manager for Circuit City for 10 years and when the company folded, it was hard to find steady employment. I needed a career change and was looking for something permanent.
From day one, the people here showed genuine concern for the students. They pretty much walk you through every step. It starts off with soft training skills, and then it goes into actual, hands-on experience.
The soft skills—the first three weeks of training—was great because I'd been in job management so long that I got rusty. It was good to brush up on interviewing skills again, resume writing and things of that nature. I also liked the core curriculum part when we got a chance to go over to Associated Builders and Contractors in Hyattsville, MD, and get real hands-on experience.
I got complacent in my old job. When things become day-to-day, you don't test yourself or get a chance to challenge yourself. The program made me dig deep and it made me learn again, and that was actually a very good part of it.
I would encourage anyone that's looking for work or going through a hard time to come to Goodwill and try to get into this program. A Goodwill staff member sent my referral to P&P Contractors in Rockville, MD, and I had an interview. They told me which job site they would be sending me to, and I'm looking forward to that.
Hear more stories from people like Bill »
Subscribe on iTunes
---
2 Comments
Add a Comment*
*Your comment will be held for moderation until approved. For questions about Goodwill programs and services, please use our locator and contact your nearest Goodwill headquarters.