My Story: Bill Thigpen
April 26, 2010 | By Jenni B. Baker |
Subscribe to "My Story" RSS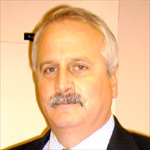 After five years of battling breast cancer, my wife  passed away in December of 2008.  Six weeks later, I was laid off. I was having a tough time getting up in the morning and having ambition to do anything, but at the time, I still had two sons in college and a 16-year old daughter to support.
I was standing in the unemployment line out in Chester County, PA, when I was approached by a member of Goodwill® Keystone Area's Senior Community Service Employment Program (SCSEP) who told me to talk to the case manager, Dorothy Marshall. I told her I really wanted to get into either public service or nonprofit work.
She got a position for me as her actual assistant. I worked with new SCSEP participants and host agencies. I took the participants and taught them how to use the computer, how to search for a job, and eventually placed them in positions with about 30-40 nonprofit organizations in Chester County. She did a phenomenal job of teaching me how to work with nonprofit agencies and complete the paperwork that had to be done.
After about nine months, one of the host agencies had a position opening up as the director for one of their main offices. I interviewed for the job. They liked me and I started in April 2009. SCSEP was the most perfect thing that has happened to me, and I am looking forward to helping others.
Subscribe on iTunes
---
4 Comments
Add a Comment*
*Your comment will be held for moderation until approved. For questions about Goodwill programs and services, please use our locator and contact your nearest Goodwill headquarters.