My Story: Brian Addison
November 8, 2010 | By Jenni B. Baker |
Subscribe to "My Story" RSS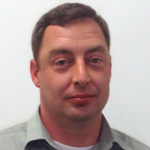 I spent over ten years in the U.S. Army as a military policeman. Several deployments made me face difficult situations, but didn't prepare me for the civilian world and the challenges I would face there.
When I left the military in 2001, I had several jobs in the restaurant field but was unable to maintain any of those jobs for a significant period of time. I began using drugs and alcohol to deal with my mental issues and to cover up feelings of doubt, displacement and anger.
I began going to college and graduated from Columbus State University in August 2007. Upon graduating, I immediately entered law school. I left there in April 2008 with two babies and a new wife. Things began to spiral downward, and I began to have extreme difficulties in my marriage, with substance abuse and in all areas of my life. I was unemployable, defeated and unable to do pretty much anything.
When I came to Goodwill Industries® of the Southern Rivers, the counselors here related to me on a personal level. They began to show me how to do new things like dealing with people and learning new work skills. I learned how to be accepting, humble and patient. They taught me new attitudes, like helping others and being grateful.
Upon graduating from the Goodwill® program, I began working on my résumé and was referred to a job at an independent living facility. I aced the interview and began a part-time job in their accounts payable position. I was very grateful to have it.
After being there one month, my boss called me into the office and offered me a full time position as their occupancy specialist. The job was extremely difficult — I had to learn a new job and skills set — but Goodwill had given me the basic tools to succeed and be open to different ideas and ways of learning things.
With this new full-time job, I was able to do things like get a car and valid driver's license, and began a new life in church and a 12-step program. I try to carry these attitudes of willingness and acceptance throughout not just my work life, but also my personal life. I now try to be the best parent and person I can, and to ensure that I continue my personal recovery and help others along the way.
Hear more stories from people like Brian. »
Learn how Goodwill is helping veterans like Brian get a new start in civilian life. »
Subscribe on iTunes
---
8 Comments
Add a Comment*
*Your comment will be held for moderation until approved. For questions about Goodwill programs and services, please use our locator and contact your nearest Goodwill headquarters.