My Story: Dawn Baxter
October 11, 2010 | By Jenni B. Baker |
Subscribe to "My Story" RSS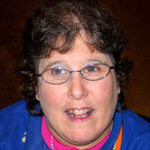 Dawn tells her story with support from Goodwill Industries® of Central Indiana site manager Amy Kieckbusch.
Amy Kieckbusch: Dawn started with Goodwill® five years ago in the janitorial training program. She is in a motorized wheelchair, and so that is one of the biggest barriers that she faces. She worked a few months in that program where they trained her on some basic janitorial kind of tasks and worked with her to figure out what is she able to do. They focused on the areas she could perform and trying to master her in those areas.
Dawn Baxter: I learned how to clean. I'd never cleaned anything—I'd never cleaned a bathroom, I'd never cleaned a sink. Goodwill helped me adapt to clean and learn what the proper protocol is, what the proper chemicals are and what not to mix together.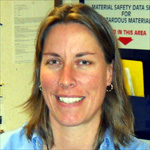 Amy: After a few months, there was a position that became available out here at Building One. She interviewed with the supervisor at the time and all the parties involved agreed that this could be a good move for her and put her in a bigger environment with more responsibilities.
Dawn: I do good work, I really do. I like working with the customers and the other Goodwill workers that I work with on a daily basis. I try to give my all. What I like the most about Goodwill is the change. Sometimes Amy will ask me to help out in a different area and I'm more than happy to go help.
Amy: She learns, she adapts and she's flexible.  She certainly tries to do everything that we ask of her.  And she's just really fun to be around.  She makes the lunchroom and her work area a better place just with her sense of humor and her willingness and her desire to be here.
Dawn: With Goodwill, they treat you like a regular individual.  They don't treat you like you have limitations.  They encourage you to better yourself and go the extra mile and reach for that next step so you can improve yourself. They were willing to make adaptations for me so I can be a success.
Hear more stories from people like Dawn. »
Subscribe on iTunes
---
Add a Comment*
*Your comment will be held for moderation until approved. For questions about Goodwill programs and services, please use our locator and contact your nearest Goodwill headquarters.