My Story: DeWarren Carter
November 1, 2010 | By Jenni B. Baker |
Subscribe to "My Story" RSS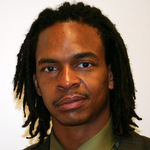 I was initially incarcerated in 2004. During my incarceration, I did a lot of self-studies as far as my reading and writing — different things that would help me prepare for my release. I focused a lot on what I would have to do to prosper. I knew I was going to be low on finances when I got released, but that wasn't deterring me.
In 2008, I was at a minimum security prison, and I heard about Goodwill Industries® of Northwest North Carolina's Project Re-entry. I entered Project Re-entry not knowing what to expect. I was doing carpentry, writing and dog-training classes — different things that I thought would help me prepare for release. I learned how to budget my money and time, how to present myself to employers and how to carry myself all around.
Once I was released from prison, Project Re-entry helped me with transportation, clothing and networking with people that were going to stand behind me. Also, I went to school to learn to work with animals.
Because of that schooling, I have both a part-time job and a full-time job. I've been working 50 hours a week. People are asking me now, "How did he come so far, so fast?" Through the support of people standing behind me, I have made big progress. My life has turned around.
I would label my life convicted to commitment. I've made a commitment to do right. I have duties and responsibilities now. Through that job, I was able to save and get an apartment and a car on the road. I want to build up my future instead of tear it down.
I am very thankful for Goodwill. They have provided a means of service for felons like me through Project Re-entry. Being a felon, you don't know where or who to turn to, but I was able to turn to this group of people that were supportive of me.
Hear more stories from people like DeWarren. »
Read about how Goodwill is helping people like DeWarren reintegrate into the workforce. »
Subscribe on iTunes
---
8 Comments
Add a Comment*
*Your comment will be held for moderation until approved. For questions about Goodwill programs and services, please use our locator and contact your nearest Goodwill headquarters.