My Story: Jamal Leary
June 7, 2010 | By Jenni B. Baker |
Subscribe to "My Story" RSS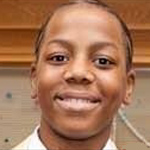 In this week's feature, 15-year-old Jamal Leary shares how he's preparing for a productive future through Goodwill's Fresh Air Camp, an educational summer program that guides youth to become motivated and confident learners.
I've been going to Morgan Memorial Goodwill Industries' Fresh Air Camp for about eight years now — almost my whole life. I started off as a camper and then moved up to a counselor in training (CIT).
This camp has helped me in many ways. It taught me how to be more independent. This camp gave me a chance to meet new people with different personalities. It's a whole new experience being away from home, and doing and seeing things I thought I would never have done or seen. So much to do: so many activities, so much food, so much fun and so much time not being wasted at camp. What else can you ask for as a child?
Camp also gets me prepared for the future and the real world, like jobs and interviews. I met so many great people here at camp, and one thing that I noticed is that they were all here to help with any situation — not with just me, but anyone. That's what camp is about – keeping you going strong at 110 percent.
I continue to go to this camp every year because of the different people I meet, the amount of fun I have each year and the great opportunities. I was raised in this camp and I'm going to keep going until I can't go anymore. This camp is my home away from home with people I love, and it has helped me become a better role model and stronger leader.
Hear more stories from people like Jamal. »
Subscribe on iTunes
---
6 Comments
Add a Comment*
*Your comment will be held for moderation until approved. For questions about Goodwill programs and services, please use our locator and contact your nearest Goodwill headquarters.