My Story: James Draper
December 6, 2010 | By Jenni B. Baker |
Subscribe to "My Story" RSS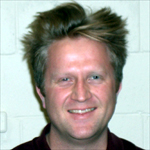 When I graduated from Fanshawe College with a marketing diploma in 2001, I looked forward to embarking on a career in my chosen profession. I searched the job boards and sent out résumé after résumé – without success.
There just weren't a whole lot of marketing jobs out there. I took any position I could find in order to make ends meet. My self-confidence took a big hit. I was dealing with so much underemployment that I gave up on myself in many ways.
In 2007, I stumbled upon an online ad for the Ontario Job Creation Partnership Program and was offered a one-year marketing contract with
Goodwill Industries®, Ontario Great Lakes
as a marketing specialist.
Goodwill® saw potential in me that I didn't see in myself at the time.  They even sent me back to school to upgrade my skills, adding graphic and web site design software to my job "toolkit."  It had taken me years to find a job in my field and the technology had changed dramatically.
Acquiring technical graphic and web site skills allowed me to use my creative talents in ways that I never dreamed. Goodwill recognized my ability and offered me a permanent position as marketing coordinator in May, 2008. Today, I would describe myself as a "brand guardian." I ensure that Goodwill's look and messaging is consistent throughout our organization.
I had a taste of unemployment and I know the struggles, so I can relate to people who are struggling in this economy.  I know it's not easy, but there is hope. Goodwill believed in me and gave me the opportunity to have a career instead of just bouncing around from job to job. It is amazing going to work knowing you are doing things you love and making a difference.  Being creative and helping others are two things I enjoy.  Earning a living doing both is priceless!
Hear
more stories
from people like James. »
Learn more about how Goodwill programs
put people to work
. »
Subscribe on iTunes
---
One Comment
Add a Comment*
*Your comment will be held for moderation until approved. For questions about Goodwill programs and services, please use our locator and contact your nearest Goodwill headquarters.