My Story: Jeremy Wallace
January 24, 2011 | By Jenni B. Baker |
Subscribe to "My Story" RSS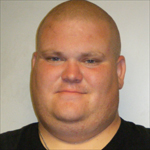 I learned about Goodwill Industries® of Knoxville through my school, and started at Goodwill® right after I graduated. I started in their job training program in 2003. I went through their work adjustment program, and they helped me get my driver's license through their driver's ed program.
I learned to drive a fork lift, to load and unload trucks and to run balers. I now work at Goodwill's material recycling facility. I've been with them for seven years.
I learned a lot of good trades and Goodwill helped me with people skills and everything. I now volunteer with the fire department. I'm happy Goodwill's there to help, placing people in jobs that they're capable of doing.
Hear more stories from people like Jeremy. »
Learn how Goodwill is helping people find jobs and become economically stable. »
Subscribe on iTunes
---
Add a Comment*
*Your comment will be held for moderation until approved. For questions about Goodwill programs and services, please use our locator and contact your nearest Goodwill headquarters.