My Story: Julie Stewart
July 12, 2010 | By Adam Stiska |
Subscribe to "My Story" RSS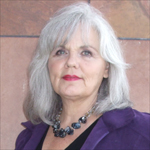 My background is as a hairdresser for 38 years, but I have a bad back and can't stand a long time anymore. I spent some time traveling in a motor home, selling at flea markets, but that was getting very difficult, and I wasn't making enough money.
Through social security, I got a low-income apartment. I felt that I didn't have a life, and that I would like to work. I went into the manager of our apartments and I asked her what I could do so that I could work without my rent going up. She told me about Goodwill Industries® of New Mexico.
I went to Goodwill® and found out it was the Senior Community Service Employment program (SCSEP), not just Goodwill. I enrolled in the program in 2008 and started at Ser de New Mexicto as my first host agency before I was rotated to Goodwill.
When I got to Goodwill, the lady who was doing data entry for the program put in her resignation, so they asked if I'd like to apply. I applied and got the job. I do the data entry for the SCSEP program and I also do pre-enrollment assessments for the participants that are coming into the program.
I love everything — the data entry is just an adventure to keep everything clean in the system.  Doing pre-enrollment assessment is wonderful because I can share my experience with the people. A lot of people have given up hope, feel that life is over as a senior, and are in such dire situations. It's so hopeful for them to get into this program and for their life to change.
Since I started working at Goodwill, I've gotten a new car and a four-bedroom home with friends. I have a life that's purposeful and meaningful. I really wanted to be a part of something that was helpful to others, and this is what Goodwill is about.
Hear more stories from people like Julie »
Subscribe on iTunes
---
4 Comments
Add a Comment*
*Your comment will be held for moderation until approved. For questions about Goodwill programs and services, please use our locator and contact your nearest Goodwill headquarters.