My Story: Kelle Wright
May 16, 2011 | By TJ Gioconda |
Subscribe to "My Story" RSS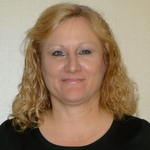 Before I came to work at Goodwill® of the Greater East Bay, my life wasn't exactly easy. I became addicted to drugs at a young age, and I used them off and on for many years. Despite my struggles, I was able to get some good job skills, including some management experience. That didn't stop me from hitting rock bottom — that happened after getting arrested for drug sales and possession.
The three years I spent in a maximum security prison for women were probably the best thing that ever happened to me. Drugs and alcohol are readily available in prison for those who want them. Instead, I chose to immerse myself in a vocational course and every self-help course I could get.
I was given a list of resources to take with me when I got out of prison that included information as to where to get a driver's license, a social security card and only a couple of places of where a person could potentially find work. Goodwill was one of the names on the list.
I had been out of prison for about a week, and I was driving down the road with my stepmother. We passed a Goodwill store and she said, "Why don't you go in there and try and get a job?"
I met the manager of the Vacaville Goodwill store and she took me up to her office. She said I was exactly what Goodwill looks for, so she sent me to apply at the Goodwill Academy in Fairfield, CA, and within a week I was accepted into the program, which gives paid training and case management.
Within 15 days of being released from prison, I was a trainee in the Vacaville Goodwill store. I was so happy to be working I would have done anything to prove myself including working long hours.
After all my past experiences I know two things: I need sobriety and I need to work. I did both of those things and now I am a self-supporting member of society. Goodwill is all about giving second chances and that is what Goodwill did for me, they gave me a second chance. They don't give a hand out, they give a hand up. Here I am five years later, five promotions later, Kelle Wright, director of sales and operations for Goodwill of the Greater East Bay.
Hear more stories from people like Kelle. »
Learn how Goodwill helps people with criminal backgrounds transition back into the workforce. »
Subscribe on iTunes
---
4 Comments
Add a Comment*
*Your comment will be held for moderation until approved. For questions about Goodwill programs and services, please use our locator and contact your nearest Goodwill headquarters.