My Story: Martha Martin
April 12, 2010 | By Jenni B. Baker |
Subscribe to "My Story" RSS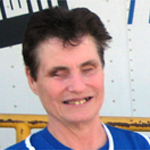 I was born in 1951. I was legally blind, and I was also premature. I grew up as a normal child doing everything outside. I went to grade school and high school, and then I went to Bakersfield College, where I graduated with an associate's degree in business.
After I graduated from college, I got married and I raised two daughters. I did telemarketing throughout the years, and I also set up appointments for people to do carpet cleaning. I worked nine years volunteering at the Center for the Blind, helping people overcome different barriers.
I got in with Goodwill Industries ® of South Central California through rehabilitation. I am a retail clerk and sorter — I check the clothes to see if they are missing buttons or if there are holes in the clothes. I love working with everybody at Goodwill®, and it really keeps you in a good mood.  It helps to make you realize you can still do things.
I like trying to help people who need training at Goodwill. I have been at this job for ten years and I really enjoy it.  I am hoping to get in another ten years.
Watch a short video about Martha.
Read more stories from people like Martha. »
---
Listen to Martha tell her story in this week's My Story Podcast


Subscribe to the My Story podcast on
.
Subscribe on iTunes
---
2 Comments
Add a Comment*
*Your comment will be held for moderation until approved. For questions about Goodwill programs and services, please use our locator and contact your nearest Goodwill headquarters.