My Story: Nicole Hansen
September 20, 2010 | By Jenni B. Baker |
Subscribe to "My Story" RSS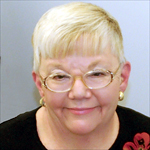 In 1999, I was diagnosed with ocular histoplasmosis and lost the vision in one eye. My world fell apart in 2004, when my employer of many years passed away, and I developed macular degeneration in my one good eye. My retinal doctor referred me to the Bureau of Services for the Visually Impaired, and with the help of a passionate, dedicated counselor, I was then directed to Goodwill® Columbus.
Goodwill showed me respect and guidance as I began my new journey. Goodwill prepared me to re-enter the workforce by introducing me to ZoomText magnification software for my computer. Support group meetings were also very helpful for the emotional support needed when you are faced with no job and a disability.
After graduation from my computer training program, I entered Goodwill Columbus' job development program. This phase helped with preparing my resume and setting up interviews. It also helped me by keeping my spirits up while I looked for a job.
I am very happy to tell you I have a job that I do enjoy, and I am using skills I developed through Goodwill Columbus. I am working for doshealth, a medical billing service, and am very fortunate that my employer Leigh Ann Simms, who is on the business advisory council for Goodwill Columbus, has given me a lot of support, patience and most of all, respect.
Goodwill has shown me that, even with a disability, you can do whatever job you set your mind to.
Hear more stories from people like Nicole. »
Subscribe on iTunes
---
2 Comments
Add a Comment*
*Your comment will be held for moderation until approved. For questions about Goodwill programs and services, please use our locator and contact your nearest Goodwill headquarters.