Download the Goodwill® Locator App
Download the Goodwill Locator app available on iOS and Android in the App Store and on Google Play.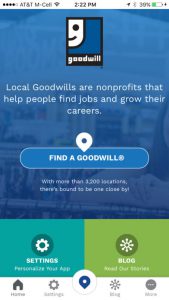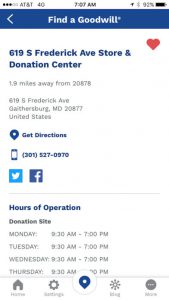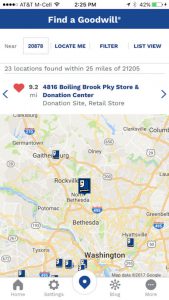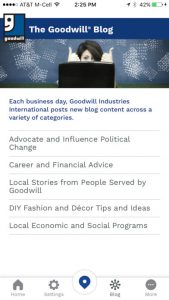 FAQS
What kind of stuff can I donate?
Donate clean, gently-used clothing and household items that are in good condition. Many Goodwills accept computers and electronics. Some accept vehicle donations. If you have a question about an item, contact your local Goodwill first to find out what they do and don't accept.
Can Goodwill pick-up my stuff at home?
If you have large items, your Goodwill may consider a home pick-up. Contact your local Goodwill find out if a home pick-up service is available.
What about coupons?
We love them! The Goodwill in your community may have coupons available, so from the details screen of your Goodwill, select the website link to discover what coupons and sales might be available to you.
Can Goodwill help me get a job?
Your local Goodwill is a job creator as well as a job training and placement organization. From the details screen of your Goodwill, select the website link to discover what opportunities might be available at the Goodwill in your community.
How do I register a concern about my local Goodwill?
It's always best to start with the senior management of your local Goodwill. When you contact the Goodwill, ask to speak to a manager. Or find the contact information on your local Goodwill's website. If you're unable to do this, call (800)466-3945, or email [email protected].
How can I report an error with this app?
Thank you for taking the time to report an error. Please email a description of the error you experienced to [email protected].