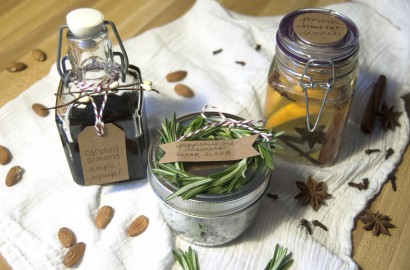 I don't know about you, but I get a special joy from knocking out about ten holiday gifts in one crafty afternoon (#crafternoon?). Nothing fills me with seasonal spirit more than cranking up the Christmas tunes while I hand-make presents for each of my family and friends. The ideas I have to share with you today get bonus points for budget- and Earth-friendliness since, to make these, you'll only need to buy a couple of small items from Goodwill and the grocery store! And, chances are, most of the people on your list will enjoy one, two, or all three of these perfect little thrifty gifts!
Read on to find out how to make something special for your friends and family this holiday season. You could whip up some candied almond simple syrup for those who like to get creative in the kitchen, or a jar of peppermint + rosemary sugar scrub to keep skin soft all winter long, or even a pomander stovetop simmer that will make any house feel like a cozy little cabin! Don't forget that you can double, triple, or even quadruple these recipes to make more for a group gift. Now, let's get started!
1. Candied Almond Simple Syrup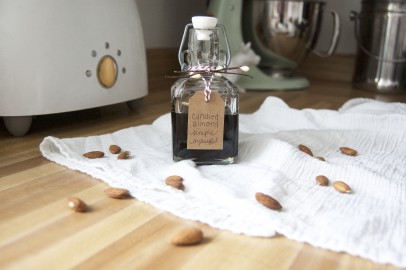 This treat will be enjoyed by people who like trying new flavors in their coffee or mixed drinks. With very simple ingredients, I'm positive you'll have almost everything you need to get started already in your cabinets. Just grab a liquid-friendly bottle (or a few!) from Goodwill and a little something to make it feel fancy, like these tiny decorative twigs that I found for just $1.50!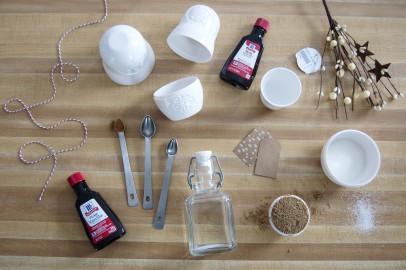 Ingredients:
¼ cup brown sugar
¼ cup white sugar
1 pinch cinnamon
1/3 cup water
1 tsp. almond extract
¼ tsp. vanilla extract
Combine all the ingredients except for the extracts in a small saucepan and simmer over medium heat until the sugar is dissolved. Stir often to prevent burning. When the sugar is completely dissolved, stir in the extracts, then turn off the heat. Allow the syrup to cool then pour into a clean, thrifted decanter with a tight cap. As long as this is capped well, it will last up to a month in the fridge, though my guess is that it'll be consumed long before that!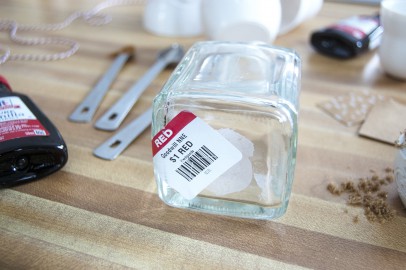 This tasty syrup makes the most delicious lattes—trust me. You'll definitely want to try a little yourself before giving it all away! Just call it "quality control." You can thank me later.
2. Peppermint + Rosemary Sugar Scrub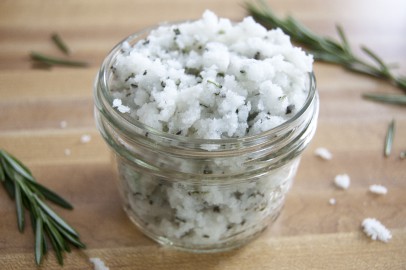 If the people on your list live in cold climates, it's very likely that their skin suffers in the winter months. I know mine does! Sugar scrubs are a great way to slough off dead skin and moisturize those delicate new layers at the same time. Even if the person you're giving to doesn't have to worry about dry winter skin, the delightful scent of this scrub creates a spa-like experience right at home and it won't hurt your bank account to whip up!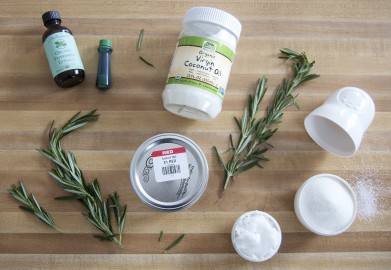 Ingredients:
¼ cup coconut oil
1 Tbsp. fresh, chopped rosemary needles
Heaping ½ cup of white sugar
½ Tbsp. peppermint extract
Green food coloring (optional if you want a little more color – I didn't use it in mine)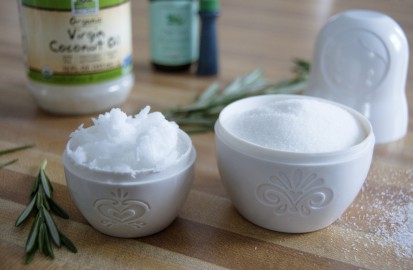 Warm the coconut oil in the microwave or on the stovetop just until it has melted. While it's warming, combine the rest of the ingredients in a small bowl and massage it between your fingers for a few minutes. This will mix the ingredients and encourage the oils from the rosemary to infuse the sugar with their scent. When the oil has melted, pour it a little at a time into the rest of the ingredients and mix with a spoon until combined.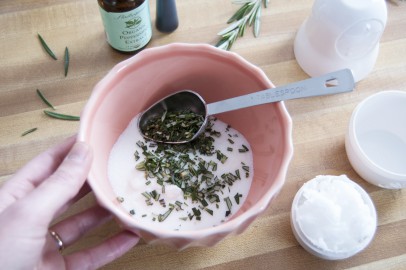 To use, your gift recipient will apply the scrub to their skin and massage it in gently to exfoliate. Then, they'll rinse it off with warm water and keep the extra stored tightly for several months.
3. Pomander Stovetop Simmer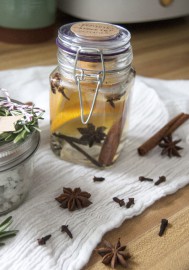 You've heard about that nifty old realtor's trick, right? To make a for-sale home seem more appealing, sometimes a real estate agent will set up a stovetop simmer to conjure a warm, comforting scent. Think of it as potpourri for the 21st century! This pomander-scented one is perfect for the holiday season and makes an ideal host or hostess gift.
Ingredients:
1 – 2 vanilla beans
2 slices of fresh orange
2 cinnamon sticks
10-15 whole cloves
2-3 star anise pods
Use a paring knife to cut your vanilla bean in half widthwise so you have two shorter pieces of the bean. Next, hold the in-tact end of one half of the bean in your hand and slice the long way down the center to open it up keeping the tip that you hold in-tact. Then, while you hold that end of the bean, carefully scrape the knife away from you through the inside of the bean to shave out all of the seeds. Do this again to the other side of that pod and put the seeds into a clean, thrifted jar similar to mine (it should be able to seal tightly and the mouth needs to be wide enough to get orange slices inside). Do the same for the other half of vanilla bean then add the bean pod and the rest of your ingredients to the jar as well and fill with water.
Allow 24 hours for the ingredients to mingle. The recipient should use it within a week or two by simply pouring it into a small saucepan and simmering on low. They can reheat it again and again until the scent is gone, adding more water whenever it gets low. When I tested this out in my home, I was delighted by the potency of the scent! Like a fancy perfume, I was getting top notes of orange when it first began to simmer which faded into cinnamon and spice after a few hours and, finally, our home was left with a warm vanilla fragrance. Each room of our small home hung on to slightly different combinations of the scents for the rest of the day so we decided to reheat it every day for almost a week to keep those smells lingering. It was amazing!
And that's it! Just a trip to the grocery store and your local Goodwill will set you up with all the ingredients you need to batch-make some great holiday gifts. Through its entrepreneurial business model of collecting and selling donated goods, Goodwill organizations help communities extend the life of usable items, like these fancy thrifted jars, in environmentally sound ways and prevent items from piling up in local landfills. Pair that with biodegradable ingredients like oranges and rosemary and you've made something special that everyone on your list, especially the tree-huggers, will enjoy!