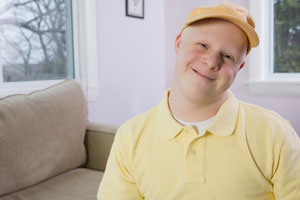 The government shutdown has kept 800,000 federal workers from going to work every day.  However, even when the government is running, nearly 80 percent of people with disabilities don't have a job to go to and aren't participating in the labor force.  Goodwill Industries® is proud to support National Disability Employment Awareness Month (NDEAM).  This year's NDEAM theme is "Because We Are EQUAL to the Task."
For decades, Goodwill® agencies have trained and hired people with disabilities to work in Goodwill stores, donation centers and career centers, in addition to emerging fields outside of Goodwill.  Last year, we served more than 260,000 individuals who reported having a disability.  Furthermore, 30,000 of Goodwill's 113,000 employees have a disability.  Types of services we provide to those individuals include occupational skills training, transportation, on-the-job training, intensive job placement sessions, virtual career coaching and supported employment, among others.
Goodwill believes that no one should be shut out of employment.  Everyone should receive the intangible benefits of work – independence, participation in society, dignity, self-esteem and sense of accomplishment among others.   Goodwill has worked with a variety of stakeholders to help increase employment opportunities for people with disabilities including policymakers, service providers, disability advocates, program participants, family members, and for-profit employers.  All play an important part in fostering a more inclusive workforce, one where every person is recognized for his or her abilities — every day of every month.