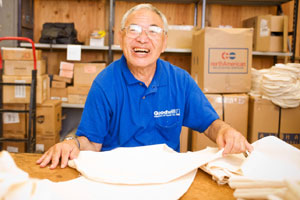 In 2012, Goodwill® agencies provided job training and employment services to more than 6.7 million people.  A service provided may be as simple as helping someone brush up on their interview skills, improve their résumé or learn about LinkedIn since they were recently laid off from an engineering position after working for 30 years.  Or it may be a more intensive service such as working with someone with a disability who may need a job coach and an individualized employment plan. 
Goodwill agencies serve people with a number of employment challenges.  For example, among the people served last year, nearly 210,000 individuals were TANF (welfare) recipients;  more than 100,000 were older workers; more than 160,000 were people with criminal backgrounds; and more than 260,000 individuals reported having a disability.  Furthermore, 30,000 of Goodwill's 113,000 employees have a disability.  Types of services provided to those individuals may include occupational skills training, transportation, on-the-job training, intensive job placement sessions, virtual career coaching and supported employment, among others. 
Goodwill supports increasing employment opportunities for people with disabilities.  Section 14(c) of the Fair Labor Standards Act (FLSA) allows employers who receive Special Minimum Wage Certificates from the U.S. Department of Labor's Wage and Hour Division to pay wages below the federal minimum to employees who have disabilities that directly affect their job performance.  Some Goodwill agencies hold Special Minimum Wage Certificates to employ workers with significant and multiple disabilities — Christel Hurley is one example. For other inspiring stories click here to hear from Goodwill program participants, volunteers and staff who share how they've earned a living, improved their lives, and strengthened their families and communities with our support.
Goodwill does not support the phase out or elimination of the Special Wage Certificate.  Instead we support increased enforcement and reforms that focus on providing additional supports, pathways to employment and recognize the principles of employment first and informed choice. 
Nationally, four out of five people with disabilities is out of the workforce. The Special Minimum Wage creates opportunities for these Americans that would otherwise not exist by allowing employers to focus on what workers with significant and multiple disabilities can do rather than penalizing them for what they can't do.  Without these opportunities, many, if not most, of these individuals would fall out of the workforce, and they and their families would lose access to the wider range of services that Goodwills provide. That would be truly unfair.  To learn more about the Special Wage Certificate and the reforms supported by Goodwill click here.