There are so many things I love about this time of year– the food, the family time, and the festive decor. They're the anchors of the holiday season that make it so memorable. No matter what we celebrate, every culture's seasonal celebrations always involve that lovely trifecta.
For the last few years I've tried to follow in my mother and grandmother's footsteps and create one DIY ornament each holiday that I can make a batch of (a dozen or so) to attach to gifts, send to friends, or offer up as a gift in a pinch to neighbors and co-workers who show up with something unexpected. It usually involves a little research, a little serendipity, obviously a trip to the thrift store!
My first attempt at making an annual DIY ornament was sparked by finding two boxes of clear plastic bubble ornaments at a Goodwill store. Most of the ones I'd seen like this before were made of glass and always seemed too fragile for my tree-loving cat. With my first baby in tow I scooped them up fast, feeling like I'd hit the DIY-babyproof-ornament jackpot, thinking I'd surely figure out something to make with them later. Eventually, instead of painting them or breaking out the glue gun (because, you know– baby) I just filled them with a few tablespoons of salt, tossed in a few old black beads from a broken necklace, then cut up some orange construction paper noses and called dubbed them "Melted Snowman" ornaments.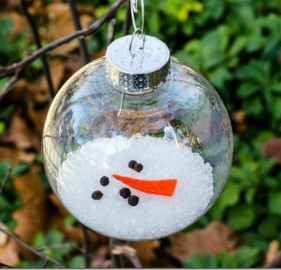 Credit: @itallstartedwithpaint
The next year, still fueled by a certain popular animated movie theme — you know– the one featuring a LOT of snow– I found a few boxes of battery-operated tea lights at the thrift store. With a little Sharpie and glue, they became little lighted snowman ornaments!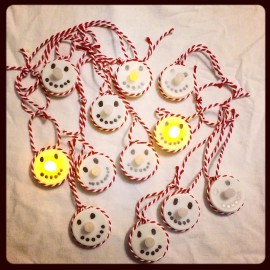 Credit: Jenna Pfueller
But festive decor doesn't have to be just an ornament on a tree. I like to pepper our home with colors and textures throughout the dark winter months that help remind me that even in these short days and long nights, spring will be coming again soon.
So this year, instead of an ornament, I think I might try this idea to create colorful tree garlands, though they can easily be used or re-used as gift ribbon or a festive bunting to trim your home with all winter long.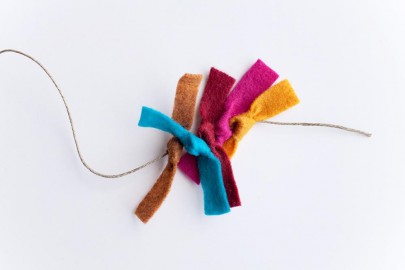 Credit: @tellloveandparty
Simply cut brightly colored t-shirts or felt into thin strips and start tying them along! Sometimes it amazes me how something so simple can be so timeless and stunning. And being able to make this with donated materials from your local Goodwill not only makes it a great gift to give, but one that's beneficial for job seekers in your community. Here's another way Goodwill takes donated t-shirts and turns them into jobs.
One more thing before I go. Have you heard of the $5 Goodwill Christmas Challenge? Check out this woman's centerpiece creation for just $3! And I'm in love with this woman's festive "Good Jul" handmade tablecloth find, and vintage holiday pieces. I can't wait to get out there and find some myself!