With farmer's market season just beginning, I've got flowers, produce, breads, and a host of other market-fresh goodies on my mind. Strolling through a park ripe with crates of colorful fruit and hand-scrawled price signs atop gingham picnic cloths is just how I want to spend my weekend mornings. So, for today's post, I've tried to channel that mood. Here are a few of my favorite farm-fresh Goodwill® finds…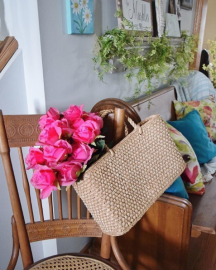 Image via instagram.com/karen.says
Straw handbags are all the rage right now, even on city streets, but there's no place more perfect for them than a farmer's market. This one,  shared on Instagram by Goodwill Industries of Central Indiana, Inc. (Indianapolis), was harvested from one of their stores for just $3! I love this size and shape for carting home quarts of strawberries. The weave keeps it sturdy making it the ideal summer accessory no matter what you need to tote. Check your local Goodwill for a stylish straw bag and feel confident that by shopping at and donating to Goodwill, you help provide job training and placement opportunities for individuals in your community. What better way to carry home your locally-grown produce than in a bag whose purchase also supports your neighbors?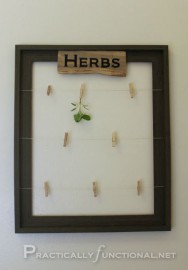 Image via practicallyfunctional.com
Once you've brought your market finds home, it can be a trick to use everything while it's still fresh. One challenge I always face is using up an entire bundle of herbs. I may purchase freshly-picked basil or mint for one recipe, but then I have a difficult time thinking of how the rest can be used (or maybe I just forget it entirely since it's tucked away in the fridge). To prevent that cringeworthy moment when I have to toss my wasted herbs in the compost, I am swooning over this herb-drying display shared by Goodwill of the Great Plains (Sioux City, IA) to  their Life Hacks pinboard! Not only would this allow me to keep herbs visible so I am more likely to remember to use them, but it would also dry them for me so, if I do forget them, they won't go to waste. You can make your own herb-drying station in no time with a thrifted frame, string, and clothespins. It's the perfect post-farmer's market project!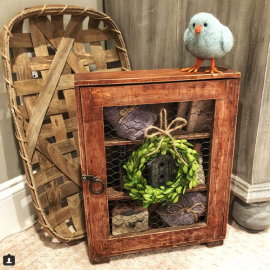 Image via instagram.com/stylethebullseye
This last find will help you bring that farmer's market feel back home with you, too; it's an antique-looking medicine cabinet that Instagrammer StyleTheBullseye found at her local Goodwill. The finish, latch, and chicken-wire door remind me so much of a pie safe that has been handed down in my family for generations. You could set this up on the kitchen counter with muffins straight from the market to mimic that mood on a small scale. Even when you don't have fresh baked goods to display, you could use it for teacups, K-cups, or any other little kitchen necessities. This versatile decor piece just has so much personality. Keep an eye out for one the next time you're thrifting!
Now go enjoy the growing season and the bounty it brings because, before we know it, farmers will be packing up their produce for the last time of the year. I hope these thrifted goodies help to freshen up your home and weekend routine. Like a farmer's market, Goodwill stores are always being refreshed with different merchandise supplied by your neighbors (through their donations) so wandering through your favorite thrift store is just another way to get a taste of your local community.