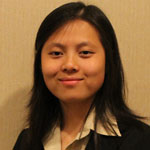 I was antisocial, embarrassed and shy. I didn't really have any friends, hobbies or interests. I wasn't thinking of working until the age of 20, and my mom supported me. I went to high school and then went directly to college, but I dropped out after 4 or 5 quarters.  I felt like I had no skills or experience, and so I was embarrassed and didn't know where to find work.
Before I came to Seattle Goodwill Industries, I stayed at home. I went to school and I'd come home and wouldn't really go out or have any interests or hobbies. Goodwill has given me a good job working outside, and I really enjoy it. I enjoy the physical work, the fruit of my labor. It was like an immediate change, because I found something to do and was motivated. I'm really happy where I'm at in my life right now. I found my direction.
I'm in the Green Corps Program. It's a partnership between Goodwill and Seattle Parks and Recreation. We work in the park and forest doing trail restoration. We maintain the trails by planting, weeding and mulching. In class we learn life skills, workplace readiness and financial literacy.  We also learn to manage stress and take care of our money.
In the future I would like to be a landscape architect and go to school to get a bachelor's degree for that. I really want to be a family person and  take care of my family.
Hear more stories from people like Hong.