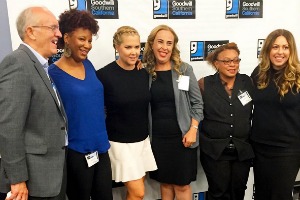 Last week, recent Emmy winner and "Trainwreck" star Amy Schumer collaborated with Goodwill Southern California (Los Angeles) to empower women through fashion.
In conjunction with the comedian's Style Fund, LA Goodwill job seekers were offered the opportunity to attend the Style Empowerment Workshop. Thirty participants enjoyed a morning of celebration and transformation with fashion stylists, and hair and make-up professionals. Each guest took home a complimentary professionally styled outfit and accessories and a new found confidence – to help them tackle the working world and create a brighter pathway to success for themselves and their families.
Earlier in the day, Schumer and her stylist, Lisa Evans, addressed a team of Goodwill retail associates, sharing tips and styling techniques to help them transform the looks and lives of thousands of shoppers, every day.
The comedian is well known for speaking publicly about body image, but a recent encounter while working on "Trainwreck" inspired her to educate women on finding their style, and in turn more confidence. An on the set Evans showed her how simple wardrobe improvements could help her to look and feel better, despite pressures from Hollywood to appear a certain way.
"It's an emotional thing," she told Maria Shriver in an interview that aired on TODAY Friday. "It's been a struggle for me my whole life, and especially just being in the entertainment industry. Standing on a stage in front of people, I can't perform my best or be confident if I'm not sure — if I'm pulling at something [I'm wearing]. And sometimes I would just want to throw in the towel and be like, 'I'm not gonna go do standup tonight.'"
In her recent HBO special, Schumer addresses how unrealistic Hollywood can be in her signature satirical style. She says that her goal is to "make everybody laugh and feel better, which is my goal across the board with everything."
View a clip from TODAY of Schumer discussing her new mission and the Goodwill partnership here.