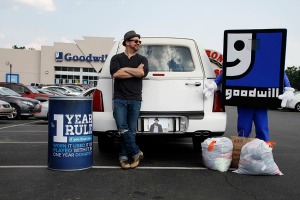 For Lizzie Spaulding, it was a sort of trifecta. The 25-year-old from Hendersonville, TN cleaned out her crowded closet, helped a great cause and got to meet one of her music idols — all at once.
Spaulding was one of many people who showed up at the Rivergate Goodwill store in Madison, TN on June 10 to donate to Goodwill Industries of Middle Tennessee (Nashville) and meet multi-platinum recording artist Kristian Bush, one-half of the country duo Sugarland.
"Oh my gosh, he was such a sweetheart — so nice and funny," she said. "I've listened to his music since I was a little girl."
Like others who showed up for the special event, Spaulding walked away with an autographed copy of Bush's debut solo album, Southern Gravity, and several selfies with the fedora-wearing star on her cell phone. She also had the satisfaction of knowing that her donation would be sold to provide job training and employment opportunities for people in the community needing work. She said she would be back soon.
"I shop at this Goodwill pretty regularly," she said. "They've got a lot of really great clothes in there."
The recent video for "Trailer Hitch" was partially filmed at the Goodwill's Brentwood, TN store.
Earlier in the day, Bush gave an interview at the agency's headquarters about his partnership with Goodwill. A transcript of that interview, along with a video and photos from the day, is published on the Goodwill Industries of Middle Tennessee website.
Moments later, he was to perform for Goodwill's "A Team," a group of about 30 employees with developmental and other disabilities. He said he considered it a privilege.
"I'm very blessed to be able to sing and play. It doesn't matter the size of your audience — just play. And I love the idea that I might surprise you and walk in with a guitar at any moment," he said, chuckling. "Anytime I can be part of any conversation like that, I want to be part of it."
Bush sang three of his songs, including "Trailer Hitch," equipped with only his acoustic guitar and seated smack in the middle of the lucky employees.
They clapped along with the songs, and many danced and cheered in their seats.
Afterward, one of the employees named Wisdom got to shake hands with Bush. He was beaming. Wisdom said he had heard Bush on the radio, seen him on TV and was excited to meet him in person.
"Yes sir, I've been looking forward to this all day — all week," he said.
one-half of Platinum-selling country duo Sugarland