Rockville, MD. — Goodwill Industries International recently named Sandra Martin one of its 2010 Kenneth Shaw Graduates of the Year for her tireless work to improve the lives of people with visual impairments and disabilities in her community.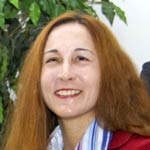 Martin began losing her vision 30 years ago as a result of juvenile diabetes. She lost her sight completely when her daughter was just a few weeks old. When her daughter was in high school, Martin overheard someone telling the teen that she'd have to take care of her mother for the rest of her life. In that moment, Martin decided she needed to find a job to become more independent.
She enrolled in courses at the Florida Division of Blind Services, where she learned to use the Job Access with Speech (JAWS) program and became computer literate for the first time. She also learned how to use a guide dog. Even with this new training, Martin still struggled to find work.
After searching for five years with no luck, she was referred to Goodwill Industries® of Southwest Florida (North Fort Myers). A Goodwill® employment consultant helped Martin develop a résumé to highlight her extensive volunteer work in the community and her computer skills. The consultant coached Martin on the job application process and accompanied her on job interviews.
"The biggest obstacle was getting someone to believe in me, and believe that I could do a good job and be a benefit to an employer," said Martin. "Having someone to stand behind me, support and work with me is what made Goodwill a great organization to help me find employment."
Within a few months, the Visually Impaired Persons (VIP) of Southwest Florida hired Martin as an outreach coordinator. Her advocacy work has made Martin one of the most visible advocates for people with visual impairments and disabilities in Southwest Florida. Her hard work helped to establish a Lighthouse Outreach Center in Naples, a nonprofit that works with VIP to support people with visual impairments and their families.
As the result of Martin's advocacy work, voters with visual impairments can use adaptive voting machines in Collier County, FL, and busy intersections have been made accessible with pedestrian signals to keep people with visual impairments safe.
"Every day, Sandra works to improve the lives of people with visual impairments and disabilities, and she dismisses any negative stereotypes that people may have about employing people with disabilities," said Jim Gibbons, president and CEO of Goodwill Industries International. "Her story is inspiring to people in similar situations and shows employers the benefits people with disabilities can bring to the workplace."
Goodwill Industries International's Kenneth Shaw Graduate of the Year award honors an outstanding person or persons for completing a Goodwill Industries career program and becoming competitively employed by a non-Goodwill employer in the community. The Graduate of the Year award recipient is announced during Goodwill Industries Week, which is observed May 2-8.