Inspiring Documentary Showcases a Unique Band and their Journey to Show the World the Greatness within Them
ROCKVILLE, MD — For Once In My Life is an inspiring, expectation-defying look at the Spirit of Goodwill® band, a unique assembly of 28 singers and musicians, all with disabilities —ranging from autism and behavioral disorders to cerebral palsy, Down Syndrome, and visual impairments — who share an uncanny gift for music, joy and friendship.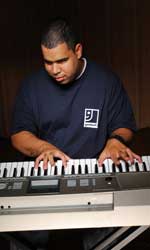 The film follows the band members, all of whom are program participants at Goodwill Industries® of South Florida (Miami), as their determination, talent and dedication takes them from the rehearsal room — first learning an instrument, then learning to play together as a group – to the concert stage. For Once In My Life will premiere on the Emmy and Peabody Award-winning PBS series Independent Lens, hosted by America Ferrera, on Tuesday, February 1, 2011, at 10 p.m. eastern (check local listings).
For Once In My Life offers a behind-the-scenes look as the band members are discovered by Miami Mayor Manny Diaz and music impresario Emilio Estefan and invited to perform at the 2007 U.S. Mayor's Convention, which was held in Miami. Most of the members never played an instrument before, and those who did had never before played in a band, so they faced many challenges as well as musical successes, and the journey was a test of patience and compassion as they prepared for a concert of a lifetime. Viewers will witness intimate scenes of the band members' families and homes. Some of those featured include a pianist, Christian, who is blind and autistic; lead singer Terry, who never fully recovered from being dropped by his father when he was 14 months old; and drummer Sam, whose development was stunted by his mother's efforts to hide her pregnancy.
Filled with joy, humor and tough love, For Once In My Life provides an eye-opening look at the tremendous potential people with disabilities possess, and the power of music to transform and enrich lives. Listening to the Spirit of Goodwill band in performance, viewers will realize that the members' disabilities don't define who they are.
"For Once In My Life delivers a poignant message that also gets at the heart of Goodwill's mission," said Jim Gibbons, president and CEO of Goodwill Industries International. "We all share dreams and aspirations for a life lived in full, and, given the proper opportunities, we can accomplish amazing things."
For Once In My Life has won audience awards at the South by Southwest, Nashville, Sarasota and Heartland film festivals, the Jury Award at the Sonoma and Port Townsend Film Festival, and the Music Impact Award at the Nashville Film Festival.
"For Once In My Life provides a message that is consistent with Goodwill's philosophy: the people we serve have the same potential and warts that we all possess," said Dennis Pastrana, president and CEO of Goodwill Industries of South Florida. "The inspiring film is a rallying point for the 54 million Americans with disabilities who should be given the opportunity to do amazing things."
To watch the movie trailer, meet the band, find out about upcoming screenings, and purchase copies of the film, visit www.4onceinmylife.com. DVDs are available at $16.99 each and the CD soundtrack is available for $15.
To learn more about the film, visit the For Once In My Life interactive companion web site, which features detailed information on the film, including an interview with the filmmaker and links and resources pertaining to the film's subject matter. The site also features a Talkback section, where viewers can share their ideas and opinions, preview clips of the film, and more.
For downloadable images, visit http://pbs.org/pressroom.
For the program companion web site, visit http://pbs.org/independentlens/for-once-in-my-life.
In case you miss the broadcast, For Once In My Life will be offered via PBS' Video Player on video.pbs.org for seven days after broadcast.
For Once In My Life will also be digitally distributed and is launching online on iTunes and Amazon for viewers to download to own for $9.99 or rent for $2.99. It will soon be available on Netflix.