Rockville, MD — On December 14, President Barack Obama named Goodwill Industries International President and CEO Jim Gibbons to the newly established White House Council for Community Solutions. Gibbons is one of 25 nonprofit, corporation and foundation leaders on the council, which is committed to social innovation and civic engagement.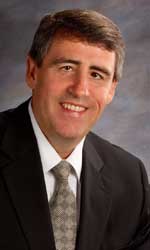 To help lift up community solutions, President Obama established the White House Council comprised of cross-sector leaders to achieve the three priorities listed below:
1. Enlisting leaders in the nonprofit, private and philanthropic sectors to make progress on key policy goals.
2. Providing strategic input and recommendations to help the federal government promote greater innovation and cross-sector collaboration.
3. Honoring and highlighting those making a significant impact in their own communities.
All across America, individuals and community groups are finding solutions to local problems. The Council will focus on developing ways to enlist more Americans and leaders across sectors to help catalyze change to build healthy communities and make progress on our nation's biggest goals in education, youth development and employment as well as provide advice to the president on solving specific community needs.
"These impressive men and women have dedicated their lives and careers to civic engagement and social innovation," said President Obama. "I commend them for their outstanding contributions to their communities, and I am confident that they will serve the American people well in their new roles on the White House Council for Community Solutions. I look forward to working with them in the months and years ahead."
The release highlighted Gibbons' leadership roles at GII, National Industries for the Blind and Campus Wide Access Solutions — a wholly owned AT&T subsidiary. Gibbons' awards and recognitions were also noted in the release, including his 2010 National Jefferson Award for Greatest Public Service Benefiting the Disadvantaged and 2009 Young Presidents' Organization Social Enterprise Leadership Award.
Other council appointees include Patty Stonesifer (chair), Byron Auguste, Diana Aviv, Paula Boggs, Jon Bon Jovi, John Bridgeland, Jim Canales, Scott Cowen, John Donahoe, Michael Fleming, David Friedman, Michele Jolin, Michael Kempner, Steve Lerner, Maurice Lim Miller, Laurene Powell Jobs, Norman Rice, Kristin Richmond, Judith Rodin, Nancy Rubin, Paul Schmitz, Jill Schumann, Bobbi Silten and Bill Strickland.
View the announcement and complete list of council members.
View the United We Serve website to read more about the initiatives and the resources.