ROCKVILLE, MD — Goodwill Industries International has joined forces with WE tv to invite women across the country to volunteer in their local communities. From now until January 31, women are encouraged to "PLEDGE 24 in 2010" by logging onto WEVolunteer.tv and participating in 24 hours of volunteer work in 2010 with the organization or nonprofit of their choice. Goodwill Industries International and its affiliate members are just one of the nonprofit organizations working with WE tv to increase awareness and participation for the program.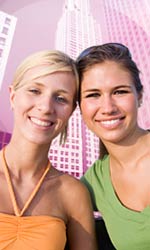 WE Volunteer is WE tv's national effort designed to motivate women to become more involved in their local communities by pledging one full day (24 hours) of community service throughout the year. The campaign's motto is simple: "What a Difference a Day Makes." WE Volunteer is the latest campaign of WE Empowers Women, the network's four-year-old public affairs initiative dedicated to creating programs that foster and celebrate women's strength, confidence and diversity. The campaign's website, WEVolunteer.tv, powered by VolunteerMatch, makes it easy to search for and sign up for volunteer experiences with nonprofit organizations based on location and personal interest. The site also allows participants to track the amount of hours volunteered and share their volunteer stories to inspire others.
"When people volunteer at Goodwill, whether they collect gently-used clothing or household good donations, or lend their expertise to help support the mission, they are helping people in their local communities find jobs, earn paychecks and support themselves and their families," said Jim Gibbons, president and CEO of Goodwill Industries International. "Our volunteers help a person earn a good job every 42 seconds of every business day."
Goodwill's mission is to provide job training programs, employment placement services and other community-based programs for people who have disabilities, those who lack education or job experience, and others facing challenges finding employment. Individuals who make an online pledge at WEVolunteer.tv to volunteer at Goodwill or another nonprofit organization will be automatically entered into WE tv's "Chic in the City" sweepstakes for the opportunity to win a trip for two to New York City to attend a fabulous red carpet movie premiere and after-party, a two-night stay at a boutique hotel, dinner at a trendy New York City restaurant, and a $200 shopping spree at Saks Fifth Avenue.
"As the leading nonprofit provider of job training and career services, Goodwill knows that there is a great need for the valuable work volunteers provide every day, " said Gibbons. "We all benefit when people offer their time and talents to those who need it most."
Enter the sweepstakes now!