ROCKVILLE, MD — Goodwill Industries International, a leading social enterprise, is pleased to announce that it has been globally ranked as a top ten workforce development nonprofit by Philanthropedia, an organization devoted to improving and measuring nonprofit effectiveness. The organization surveyed a large group of experienced nonprofit experts, including foundation professionals, government officials, nonprofit senior staff, academics, researchers, and others, and asked them to identify some of the highest-impact nonprofits working in their sectors. The experts were surveyed about topics that were both timely and relevant to the country, and it was from that angle that they decided to study workforce development.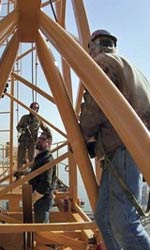 Among those surveyed were 121 national workforce development experts, who on average had 16 years of work experience, in order to identify organizations that were making the biggest impact in the field, based upon their success in carrying out their respective missions, and evidence they are having an impact. Experts recommended Goodwill, based on its strengths in the areas of job retention/stability, job advancement, capacity and skill building, and helping people of vulnerable populations obtain and maintain their career goals.
"A strong economy begins with an educated workforce," said Jim Gibbons, president and CEO of Goodwill Industries International. "Goodwill's workforce development efforts are focused on helping people get the skills and the jobs they need to sustain themselves and their families. The Philanthropedia ranking will help donors understand that we have a high commitment to working with individuals with severe challenges to employment."
Experts' reviews for the Philanthropedia ranking include the following comments:
"Goodwill has been at the forefront of innovative workforce practice, such as transitional and subsidized employment strategies."
"Goodwill is one of the very few organizations that provides really well-conceived, effective workforce training to the very hard to employ."
"Goodwill delivers high quality programming whilst building a strong fee for service work model that gives the organization the flexibility to successfully blend federal and private funds to accomplish their mission."
"Goodwill serves a high needs population and offers a diverse range of programming, including advocacy, education, training, life skills and job placement," said Erinn Andrews, COO of Philanthropedia.  "We hope donors will reward Goodwill for its superb efforts to develop and advance the skills of people facing challenges to finding employment while strengthening those individuals' relationships with their families and communities."
View Goodwill's ranking on Philanthropedia.