For immediate release
APRIL 11, 2022
ROCKVILLE, MD — In recognition of exemplary contributions to the Goodwill mission, Rex Davidson, retired president and CEO of Goodwill Industries of Greater New York and Northern New Jersey (Brooklyn, NY), has been inducted into the Goodwill Hall of Fame. After nearly 50 years of service, Davidson retired in 2009, leaving a lasting impact on communities from Texas to New York and Latin America to Asia.
"In addition to his business acumen, Rex demonstrated a deep and abiding passion for the work we did to create opportunities for people who didn't have any," said Dr. A. Gidget Hopf, former president and CEO, Goodwill of the Finger Lakes (Rochester, NY). "He is the embodiment of Goodwill's founder, Edgar Helms."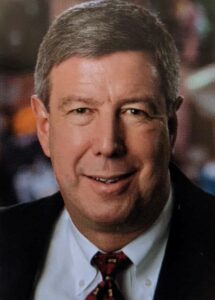 The Journey from Texas to New York and Beyond
Davidson's Goodwill journey began in 1973, when he completed executive training and was mentored by former Goodwill Industries of Houston CEO Bill Lufburrow. Soon thereafter, he became the executive director of the Goodwill Industries of Lubbock (TX), where he strengthened the organization's vocational rehabilitation programs and business operations.
With his young family in tow, he then made the physical and cultural jump from Texas to the East Coast, first to stabilize Goodwill of Northern New Jersey and then to lead Goodwill of Greater New York — the Goodwill organization that serves the largest city in the U.S. Under Davidson's leadership, the two organizations merged to create Goodwill Industries of Greater New York and Northern New Jersey (Goodwill NYNJ).
Davidson was also a longtime supporter of Goodwill's international efforts and was elected president of the International Council of Goodwill Industries in 1988. He took part and helped with efforts to establish Goodwill across the globe, including in Latin America and Asia. Davidson was passionate about sharing the Goodwill service model, with a focus on job creation in other countries.
Leadership in Workforce Development
Wherever Davidson's journey took him, there was one constant: he made a difference and led while others followed. He started programs to improve access to education and non-school hour services. He developed youth services with the support of local government. He brought state-of-the-art technology, English as a second language and basic education courses to students and their families. Goodwill NYNJ adapted 'Family Learning Center' models to create welcoming spaces for the community and provide vital services like onsite medical care in partnership with an onsite full-service community medical clinic. His initiatives serve as models for other Goodwill organizations. Under his leadership, Goodwill NY/NJ partnered with NYC to create and operate the Brooklyn Workforce Development Center, which became the most successful such center in New York. Goodwill NYNJ also collaborated with city officials to develop and operate three of the most successful Welfare to Work Centers in NYC. In addition, Goodwill NYNJ adopted the idea of creating a specialized temp agency specifically for people with disabilities, known as GoodTemps. Before Davidson's retirement, GoodTemps placed more than 900 people a day in temp positions and more than 75 percent had verifiable disabilities.
In 2009 then-Mayor Mike Bloomberg gave Goodwill NYNJ the New York Neighborhood Achievement Award for its success with the Brooklyn Workforce Development Center and the NYC Workforce Investment Board. Goodwill NYNJ also received the Queens Independent Living Center Award in 1993 for creating the center and turning the management over to consumers with disabilities. The organization was also invited to become a member of the NYC Partnership, comprised of the 100 top businesses in NYC.
While at Goodwill NYNJ, Davidson served on the NYC Workforce Investment Board, was appointed to the NYC Partnership & Chamber of Commerce, and was recruited to the David Rockefeller Fellows program. He also held board president roles with New York State's Rehabilitation Association and Industries for the Disabled.
Davidson was also the president and CEO of Goodwill Industries® Housing Corporation, which created 200 units of independent living housing in Queens for people with disabilities, with adjacent property for work centers, service centers and community services.
In his last year as CEO, Goodwill NYNJ had a more than $100 million budget that served more than 130,000 individuals annually.
Continuing Impact
Davidson's positive influence continues to be felt to this day in the impact Goodwill NYNJ has on its communities.
Throughout his Goodwill tenure, Davidson received four Goodwill Industries International awards, including the JD Robbins Distinguished Career Award in 2005; the Gerald Clore International Award in 2002; the Robert E. Watkins Award for Mission Achievement in 1999; and the Kenneth K. King Outstanding Management Award for Executive Excellence in 1996. Upon his retirement in 2009, he was also honored in the U.S. Congressional Record, U.S. House of Representatives.
Since retiring from Goodwill, he was recruited to be the executive director of Las Cumbres Community Services in New Mexico, which provides early childhood services as well as services to adults with disabilities, where he served for 10 years. He also served as the executive director for The Helms Fund, named after Goodwill's founder, which researches the availability of capital funds to expand local Goodwill contributed goods programs.
The Goodwill Industries Hall of Fame recognizes retired Goodwill CEOs, staff, volunteers and others for exemplary contributions to the broader Goodwill mission. Begun in 1991, the Hall of Fame's initial class of inductees included Goodwill founder Dr. Edgar J. Helms. The Hall of Fame now has 62 members.
Davidson was inducted into the Hall of Fame in a ceremony at the recent Goodwill Annual Meeting of the Conference of Executives.
ABOUT GOODWILL INDUSTRIES INTERNATIONAL
Goodwill Industries International is a network of 155 community-based, autonomous organizations in the United States and Canada with a presence in 12 other countries. A 501(c)(3) nonprofit that helps people find employment, Goodwill is recognized with GuideStar's highest rating, the Platinum Seal of Approval.
Local Goodwill organizations offer employment opportunities, job placement and training services, and other community-based programs, funded by selling donated clothing and household items in nearly 3,300 stores and at ShopGoodwill.com®.
For more information or to find a Goodwill location near you, visit goodwill.org. Follow us on Twitter: @GoodwillIntl and @GoodwillCapHill, and find us on Facebook, Instagram and YouTube: GoodwillIntl. Register for our Legislative Action Center via advocate.goodwill.org.