ROCKVILLE, MD — From November 1– 22, Goodwill® is asking the public to find items to donate to Goodwill, mark them with Donate Movement stickers, take photos of their donations, and share the photos with Goodwill Industries International. Each entrant will be eligible to win, with the grand prize winner for the most creative photo receiving a Levi's® prize pack worth $400.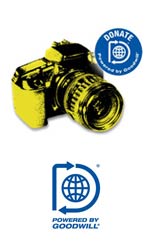 "Goodwill encourages people to donate conscientiously and responsibly to make a positive impact on people and the environment," said Jim Gibbons, president and CEO of Goodwill Industries International. "Donations to Goodwill allow us to provide job training programs, career placement and other community-based services to people with disabilities, those who lack education or work experience, and others facing employment challenges."
Photos should be submitted to Goodwill Industries International's Flickr contest page or via e-mail with a simple caption about the item, why the entrant plans to donate the item, and what it means to that individual to donate to Goodwill. Only items accepted by the entrant's local Goodwill are eligible to win. To find your local Goodwill, you can type your zip code into the Goodwill's online locator and locator.goodwill.org.
How to Enter
Find items to donate to Goodwill.
Photograph the donation.

In a photo editing program, add the Donate icon to the photograph without compromising the image of the donation.
Alternately, print a single sticker or a sticker sheet and affix the sticker to the donation and then photograph it. The sticker sheet is formatted for Avery Label template #8293.

Submit the photo of the item with the Donate icon via e-mail,

[email protected]

, or through Goodwill's Flickr contest page.
Share the photo with friends and family to let them know you served your community by donating to Goodwill.
The winners will be announced on Friday, December 3. In addition to the Levi's prize pack, the winning photo will be displayed on Goodwill's web site, in its magazine and on store posters. The winner will also receive a Donate Movement t-shirt and a copy of Frank Fontana's book, Dirty Little Secrets of Design. Five honorable mention winners will each receive a $100 Levi's gift card and a Donate Movement t-shirt.
View the donation guidelines, and read complete contest rules before entering.