Rockville, MD. — TABI and Goodwill Industries International are encouraging customers to donate their gently-worn jeans as part of a jeans trade-in promotion. Customers who participate in the promotion from Monday, August 23 to Monday, September 6 will receive $20 off a new pair of jeans when donating a used pair (or pairs) at TABI. One discount is given per donated item. The donations will be sold at Canadian Goodwill retail stores, where the revenues fund job training, employment placement and career support services for people who have a disability, lack education or job experience, or others facing challenges to finding employment.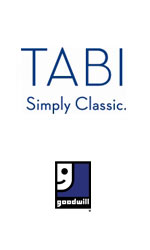 Revenues from this retail trade-in collaboration will help people to achieve economic stability and build strong families and vibrant communities through meaningful employment. Last year, Canadian Goodwills served more than 25,878 people through employment and family support services.
"The jean trade-in promotion with TABI will generate funds to help Goodwill provide employment and other necessary programs in our community and throughout Canada," said Jim Gibbons, President and CEO of Goodwill Industries International. "The donations will help play a vital role in fulfilling our mission of helping people find jobs, earn paychecks and care for their families."
TABI, established in 1980, is a women's specialty retail chain that specializes in designing, manufacturing and selling classic fashion at a great value.
"We are proud to be associated with Goodwill Industries, one of the leading and most recognized nonprofit brands," said Rosalina Pugliese, Director of Marketing of TABI. "The jeans trade-in promotion provides our customers with the opportunity to donate their jeans to be re-sold to help people support themselves and strengthen their communities."
The jeans trade-in promotion beings on Monday, August 23 and ends on Monday, September 6 and is only valid at TABI stores. TABI and Goodwill successfully worked together on previous campaigns, including a denim swap and a sweater swap.