ROCKVILLE, MD— People know Goodwill for our retail stores but what many don't know is that Goodwill has an entrepreneurial business model of collecting and selling donated goods. We help communities recycle usable items in environmentally sound ways, and prevent items from piling up in local landfills.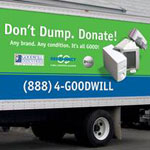 The donations sold in Goodwill stores create revenues that fund job training opportunities, help put people to work and change lives. Every 42 seconds of every business day, a person served by Goodwill earns a good job.
This year, consider donating and shopping at Goodwill to not only help the environment but help others in achieving economic stability in your local communities.
Here are 10 ways in which you can "go green" this holiday season with Goodwill:

Buying a new computer? Simply take your unwanted electronics — any brand, any condition — to a participating Goodwill store or donation drop-off site. Through a partnership between Goodwill and Dell, known as ReConnect, you can responsibly recycle any of your unwanted electronics at no cost.
Airline lost your bag? Save on your greenbacks and quickly replace your travel wardrobe at Goodwill. Visit our locator or call (800) 664-6577 to find the location nearest to you.
In need of an authorized reproduction of classic Coca-Cola signage, vintage coins or an original oil painting this holiday season? Look no further than shopgoodwill.com, the first and only Internet nonprofit auction site. The site, which was named #18 in TIME.com's "50 Best Websites of 2009," provides a wide array of special gifts that fit your budget — and the revenues go to fund job training programs for people in need.
Did you know that holiday cards sold during the holiday season could fill a football field 10 stories high, and require the harvesting of nearly 300,000 trees? This year, consider buying cards using recycled paper instead. Visit Goodwill Industries of Northern Michigan to purchase cards made by program participants.
Making holiday cookies, jams or other treats for your friends, colleagues or neighbors? Find recycled mason jars, cookie tins and other containers at your local Goodwill.
Did you know that the trash from gift-wrap and shopping bags totals 4 million tons annually in the United States alone? Instead of buying new rolls of wrapping paper, browse Goodwill for creative wrapping ideas like old comics, magazines and antique boxes.
Whipping up a holiday meal for 20 of your closest family members? Pick up cast iron pans for your holiday cooking, which in addition to adding iron to your diet, are more eco-friendly than newer nonstick and coated cookware.
Against using plastic for your shopping needs? Find a shopping tote at your local Goodwill and carry it around in lieu of plastic shopping bags. Count how many plastic bags you turn down.
Going to your local Goodwill for your end of the year tax donation? Save on gas by shopping and donating to Goodwill in one trip. Ask your neighbors if they have anything to contribute or organize a community donation drive.
Want to give this season, but not in the form of money? Consider giving the gift of "time" instead. Volunteer at your local Goodwill in the name of the person you are giving the gift to. Your specialized skills and expertise could save thousands of dollars that could be used to help people in your community instead.
"During this season of giving, Goodwill is an environmentally responsible alternative for your decorating and entertaining needs in order to make choices that are lasting, not disposable, and use less resources," said Jim Gibbons, president and CEO of Goodwill Industries International. "By visiting Goodwill, you will help save trees, avoid the need for repeat shopping trips to restock your supplies, save money and most importantly, impact a life."