Dakota McLaughlin experienced significant challenges growing up. His mother passed away when he was young, and he was also bullied at school, especially when he came out as gay, which often left him feeling alone. After experiencing domestic violence from a family member, Dakota felt safer leaving home, even though he had nowhere else to go.
"I dropped out of school and ended up homeless," Dakota said. "I fell in with the wrong crowd and started using methamphetamines. My life quickly spiraled out of control."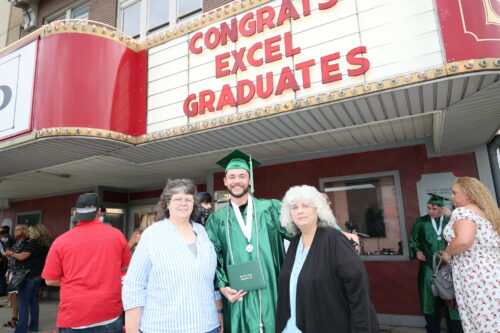 Dakota ended up involved with the criminal justice system, but that wasn't the main catalyst for his change.
"I knew I had hit rock bottom when I woke up on the sidewalk after a three-day bender, covered in ice," Dakota admits.
His probation officer suggested enrolling at The Excel Center, Goodwill's tuition-free high school for adults, to earn his diploma. He was initially reluctant due to a learning disability, but he decided to give it a try.
"The Excel Center helped me develop a growth mindset, which alleviated some of the anxiety I was struggling with," Dakota said.
Story sourced from Goodwill of Central & Southern Indiana's blog.
Contact your local Goodwill to learn more about similar programs available in your area.