Any time a group gets together, a lot must be planned. Add the chaos of visiting extended family to the struggle that is preparing a Thanksgiving meal and the stress compounds. Take heart though, because there are a lot of little things you can do to prepare that don't have to be expensive or time consuming! While your holiday plans are likely pared down this year, we still have some suggestions to help ease your stress…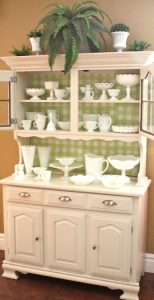 Image via ThriftingDenver.org
This display pinned by Goodwill Industries of Greater Nebraska (Grand Island) looks crisp and bright, and with dishes front and center. Dinner guests won't have to rifle through your cabinets or pull you away from your dessert plate when they're ready for their afternoon cup of coffee. Just thrift a bunch of white dishes (that way you can save money and they'll all match) to use as your décor, and when a close friend or family member brings homemade cranberry sauce, they'll instantly see options for dishing it out. This hutch provides such a lovely backdrop, too, with the contact paper update. By brushing some Mod Podge on furniture, you can adhere your favorite fabric in this same way with minimal effort. All of these details make a stunning and functional Thanksgiving display.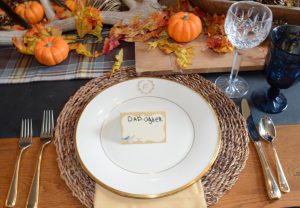 Image via thepinktumbleweed.com
Take it easy this Thanksgiving by handing off whatever tasks you can. When you're short on time Thursday morning and there's still a long list of to-dos, enlist the help of the kids! You can keep your eye on the mashed potatoes and sprinkle in your secret ingredient when no one's looking while letting little hands take care of a few other odds and ends. Alison of The Pink Tumbleweed had her kids practice their penmanship by writing out the place cards. Not only do people fawn over anything kids do, if something goes a bit wrong at the hand of a child, it is soon forgotten. If only the rest of us were cute enough to have our mistakes forgiven so quickly, huh?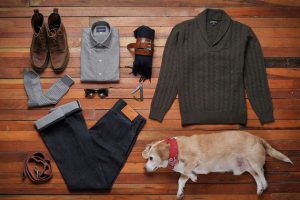 Image via TrendyThriftyNow.com
With the comfortable atmosphere you're creating, everyone else will want to stay relaxed during the holiday, too. This flat lay outfit for fellas will be just right – a sweater and warm socks to stay toasty; sturdy boots for stepping outside to walk to dog; jeans for comfort and a collar to dress it up just enough. High five to Goodwill Industries of Lower South Carolina (North Charleston) for tracking down this ensemble. I especially love that the dog is included as an accessory. Classic.
If you're still having a hard time unwinding this holiday, just remember that any dollars you spent at Goodwill® went toward helping others. Goodwill's employment programs promote independence and dignity for people who need support to provide for themselves and their families. Knowing that you made a difference in a community member's life should help you kick back, relax and enjoy your Thanksgiving. We all have plenty to be thankful for.