I've always said my fashion sense could be best described as "sophisticated toddler" because I love mixing bright colors and patterns. Comfort and pockets are also a must– and quite honestly–you'll likely find toys and snacks in mine, too. So it should come as no surprise that I LOVE shopping for my kids at my local Goodwill®. This is my first back-to-school season as a mom sending her kid off to "big-kid-school," and it has me both anxious and excited.
I'm excited because I'll soon start to save on a bunch on daycare (YAY!), but also anxious to make sure he starts that first day of elementary school (and beyond!) feeling like his best, confident, and comfortable self.
Like these kids. Look at them, totally rocking their totally thrifted outfits! Confidence in what you're wearing makes anyone sparkle, even in your tiny humans.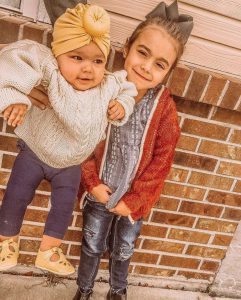 Credit: @jojo6207
I scope out the children's section the way I do bank interest rates. Thoroughly. Because if you pay attention, you just might find exactly the brand you like in a whole spectrum of sizes for them to grow into later. I was lucky enough to find this group of Hanna Andersson goodies, ranging from 2T to 7 at the same time– in one shop. And at $2 each, it was well worth the extra time spent going through the stuff in larger sections.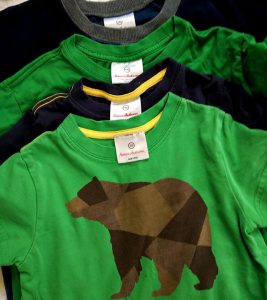 Credit: AllThriftyStates
A few things I suggest:
Take your kiddos along. I know, I know, it might be easier to pick them out on a solo trip by yourself, but their opinion matters and it might just cut down on the battle to get dressed each morning for school. Plus it's a great lesson in patience and recycling– both valuable things to teach them young.
Know your brands. There's going to be a lot there, so knowing what will wear out quickly over what will last gives you confidence that it'll survive the inevitable wear and tear of the school year.
Denim is you friend. It's timless and Goodwills are full of it.
Don't be afraid to buy sizes up (especially if you catch them marked down!) and tuck them away in the closet for next year.
Need some more tips? Check out this timeless bit of Goodwill kids shopping advice from The Clumsy Crafter. If you happen to be in North Texas on August 10, 2019, you'll get some extra sweet deals for your littles!
Going back to school doesn't have to feel like a squeeze, and it shouldn't. With Goodwill, you can make your kid's closets full of great finds at great prices– that are also great for the environment, teach responsibility, and fund job training in your community.
So sharpen your pencils and get going!