In this social media driven world where we're constantly sharing quick snapshots of our breakfast, daily commute, or kid's antics, it can be easy to focus too much on taking the pictures and not enough on displaying or appreciating them. Our lives are on display online these days instead of on the walls, tables, and desks in our homes. But I really believe that's something we all need to work on! Surrounding ourselves with pictures of loved ones and happy memories can help us all feel inspired and encouraged. So here are three unexpected ways to post pictures that can be enjoyed even without a Wi-Fi connection.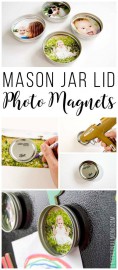 Image via unoriginalmom.com
This first idea, shared on Facebook by Goodwill Industries of Greater Cleveland and East Central Ohio, Inc. (Canton), is a super quick and easy update for your fridge that can also help hold artwork and reminders in place (bonus points for function)! Maybe you've thrifted some mason jars to use as drinking glasses or organizers which left you with a bunch of orphaned lids? Some hot glue, magnets, and snapshots will turn these into adorable circular picture frames for the fridge! Choose a similar set of colors or filters from your years of digital photos to find some consistency that will unite them as a set. My local Goodwill always has jars for sale and I love knowing that when I shop at any of the more than 3,300 Goodwill stores, I'm helping Goodwill create employment placement and job training programs as well as other community-based services.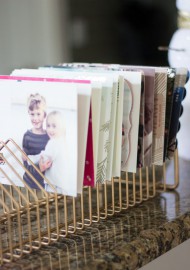 Image via designimprovised.com
Our next DIY photo display was made by Haeley of the blog Design Improvised from a thrifted CD rack! Just a little gold spray paint made a world of difference for its appearance and her reimagined use prevents the rack from becoming obsolete. The thing I really love about using a CD holder to display photos, though, is how quickly and easily you could switch pictures around. She's filling hers with holiday cards here, but you could also have a whole set of photos printed on thicker cardstock-like paper, then swap the front image for each season or just to shake things up. There are tons of online services like Parabo Press, Shutterfly, etc. that print photos straight from your devices and offer high-quality pictures perfect for this type of display. The structure and symmetry of it is pleasing to the eye even from afar. And how about that length? It's perfect for the top of a narrow desk or side-table!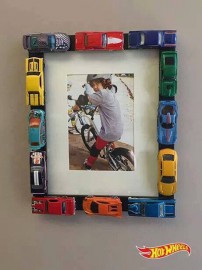 Image via pinterest.com/goodwillwa
Just because we're sharing unexpected ways to display photos today doesn't mean we have any sort of disrespect for the classic picture frame. Really! Good old fashioned picture frames are so adaptable that they are always a favorite section for me to browse when I'm thrifting. These days crafty thrifters have come up with a million ways to repurpose frames. But even when they are being used for their original purpose—to frame a picture—there are infinite ways you can customize their look to fit your decor style. For example, take this update shared by Goodwill of the Olympics and Rainier Region (Tacoma) on their DIY Gifts pinboard! The Matchbox cars would be fun to collect from the kids' section of the store as a way to celebrate your favorite future-mechanic/racer. You could also choose Legos for a builder, crayons for a little artist, or seashells for someone who loves the sea. Just have fun with it!
So now you've got three new ideas for displaying photos at home—some don't even require holes in the wall! And if you're finding supplies at your local Goodwill, you'll be saving money and reusing previously-loved items as well (Mother Nature thanks you!). I'm sure there are a million other ways to get more family photos on display at home. What are your favorites?