Goodwill® works to enhance the dignity and quality of life of individuals and families by strengthening communities, eliminating barriers to opportunity, and helping people in need reach their full potential through learning and the power of work.
Do you represent a national media outlet and interested in featuring Goodwill? Get in touch with a member of our public relations team using the contact details provided below.

Media Contacts: National Media Inquiries Only
Lauren Lawson-Zilai
Senior Director, Public Relations
Charlene Sarmiento
Manager, Public Relations
For national media interviews, email Lauren Lawson-Zilai and Charlene Sarmiento at [email protected]
For local inquiries, visit our locator to find your Goodwill headquarters. Your local Goodwill media rep can assist you.
If you are a member of the public, please use our public inquiry form to email a member of our customer service team.
About Goodwill
Goodwill Industries® has helped people go to work since 1902. We provide employment, job training and other community-based programs for people looking to advance their careers, build their skills and further their education. Learn more about our organization by checking out the list of resources below.
Latest Press Releases
View the press release archive
Ambassadors and Influencers
Jenn Im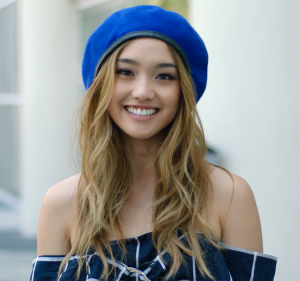 Jenn Im is the most influential Asian American beauty, fashion and lifestyle YouTuber in the world. Jenn grew up hitting thrift stores after school, and she credits her shopping trips to Goodwill with helping her define her personal style. At Goodwill, Jenn says she discovered one-of-a-kind pieces that she would never have found at the mall. Jenn felt free to play around with her fashion choices because Goodwill is so affordable. Jenn has worked with Goodwill to create videos for National Thrift Shop Day as part of the Ad Council's Creators for Good campaign, which encourages YouTube stars to make a difference in the world.
Jenn launched her own clothing line of affordable everyday staples, known as "Eggie," in 2017. With her polished yet accessible style, she empowers subscribers to dress with confidence while staying true to themselves. Known for her highly curated content and easy charm, Jenn is a leading content collaborator for many major brands and publications. Jenn's ability to connect with audiences and invite them into her universe has garnered avid superfans all over the world — and more every day.
Tiffany Mink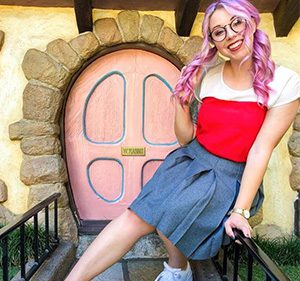 Tiffany Mink is a creator across Instagram, YouTube and Twitter with a focus on family-friendly content. She has combined her love of Disney with her professional marketing and social media background to build platforms with more than 80,000 audience members. Specializing in integrating sponsored content, her focus is always on genuine posts and videos that resonate with her audience. In 2018, Tiffany won a contest sponsored by Sony Pictures, the Spider-Man: Homecoming movie and Goodwill encouraging aspiring community heroes to create their own DIY Spider-Man suits. As the contest winner, Tiffany received tickets to the Hollywood premiere of the movie, and her suit was displayed on the red carpet. Since that time, Tiffany has served as an influencer for Goodwill creating content to promote back to school, Disney Bounding, Halloween and spring cleaning. Additionally, Tiffany was a speaker about influencer marketing at Goodwill's international conference.
Annual Reports and Form 990s
Our Annual Report includes Goodwill Industries International's 2018 990, 990-T and Audited Financials.
Twitter Feeds
Find up-to-the-minute information about Goodwill. Follow @GoodwillIntl and @StevenCPreston.
In the News
November 10, 2020: IHG® Hotels & Resorts Thanks Essential Workers with Surprise Trips and Exclusive Experiences (IHG)
November 5, 2020: U.S. Unemployment Claims Held Nearly Steady Last Week (The Wall Street Journal)
November 3, 2020: Goodwill CEO Concerned about Recent Economic Trends (Bloomberg Markets: The Close)
August 13, 2020: Weekly Unemployment Claims Drop Below One Million for First Time Since March (The Wall Street Journal)
June 29, 2020: Goodwill Offering Job Training, Support for Americans Impacted by COVID-19 (Cheddar)
June 12, 2020: How CEOs Lead Across Different Organizational Structures (Insigniam Quarterly)
May 29, 2020: Pandemic: What you Need to Know (ABC)
May 28, 2020: Easing Unemployment Claims Show Slower Pace of Coronavirus-Related Layoffs (The Wall Street Journal)
May 20, 2020: More Than 170 Businesses and Community Organizations Callon Congressional Leaders to Provide Direct Federal Aid to America's Cities, Towns, and Villages (National League of Cities)
May 15, 2020: Coronavirus Employment Shock Hits Women Harder Than Men (The Wall Street Journal)
May 8, 2020: April Unemployment Rate Rose to a Record 14.7% (The Wall Street Journal)
April 28, 2020: COVID-19: Another barrier to employment for low-skilled workers? (AEI Hardly Working Podcast)
April 9, 2020: U.S. Unemployment Claims Total 6.6 Million Last Week (The Wall Street Journal)
March 19,2020: Coalition of Nonprofits Calls on Congress for $60 Billion Infusion (Candid)
March 18, 2020: Nonprofits Seek $60 Billion Federal Aid Package (The Chronicle of Philanthropy)
February 25, 2020: Working Together to Boost Inclusive Hiring: JPMorgan Chase, Goodwill® and Indeed (Indeed Blog)
January 14, 2020: Exploring the #PowerOfWork with Goodwill's CEO (Work in Progress podcast)
January 14, 2020: Secondhand Style: Tips for Shopping at Consignment and Thrift Stores (Today Show)
November 26, 2019: Goodwill CEO: More Consumers Asking for Resale Holiday Gifts (FOX Business)
October 8, 2019: U.S. September Nonfarm Payrolls Grew Steadily; Jobless Rate Hits Half-Century Low (The Wall Street Journal)
August 20, 2019: What Thrift Stores Want You to Know Before You Make a Donation (TODAY.com)
August 8, 2019: Social Impact Heroes: How Bob Ravener and Goodwill are helping hundreds of thousands of vulnerable people to find employment (Authority Magazine)
June 14, 2019: Goodwill Gives Former Inmates a Second Chance (FOX News – America's Newsroom)
June 14, 2019: Goodwill CEO on Prison Reform (FOX News – Varney and Co.)
February 1, 2019: A Robust Job Bain in January Shows US economy's Durability (AP News)
February 1, 2019: Economy Notches 100th Straight Month of Increased Employment (The Wall Street Journal)
January 28, 2019: America's Hidden Workforce Returns (The Wall Street Journal)
January 16, 2019: After a Strong 2018 for Retail Sales, Caution Flags Pop Up (The Wall Street Journal)
January 15, 2019:  The 'Marie Kondo effect'? Thrift stores nationwide see an uptick in donations (Today)
January 14, 2019: Netflix has people (serenely) bulldozing their closets, and thrift stores are riding the wave (CNN)
December 19, 2018: Goodwill and Janie Gullickson Are Helping Women Rebuild Their Lives After Jail (Now This)
October 17, 2018: Halloweentown Turns 20! Kimberly J. Brown Remembers Working with 'Sparkly' Debbie Reynolds (People)
October 3, 2018: 5 Tips on Saving Money and Time on Halloween Costumes (AP News)
July 22, 2018: The Best Back-to-School Bargains at Thrift Stores (MoneyWise)
June 26, 2018: Helping Veterans get jobs: How you can get involved (U.S. Department of Veterans Affairs)
June 4, 2018: How to Save Money on Vital Medical Equipment (The San Diego Union Tribute)
April 26, 2018: Goodwill Launches Career Navigation Program (Chief Learning Officer)
May 26, 2018: The Most Incredible Items Ever Found at Thrift Stores (MoneyWise)
May 18, 2018: Goodwill Boosts Retail Employee Performance With New Career Development Program (Retail TouchPoints)
May 17, 2018: The Ways to Save on Vital Medical Equipment for Seniors (MoneyWise)
May 11, 2018: Thrifting At Goodwill Turns Buying A Pair Of Jeans Into A Job For Someone In Need (Blavity)
February 17, 2018: Life Once Controlled by Disabilities, One Young Man Now Creates Art with Legos (CBS News)
December 19,2017: Leadership Series: Goodwill's Jim Gibbons (Boyden.com)
July 18, 2016: Forbes Nonprofit Council Member Spotlight: Jim Gibbons, President and CEO of Goodwill Industries International (Forbes Nonprofit Council)
July 15, 2016: Interview with Jim Gibbons (Philanthropyroundtable.org)
May 25, 2016: The Brands That Do The Most And Least Good For The World-Ranked By Consumers (Fastcoexist.com)
December 9, 2015: Give Back Box Ships Your Unwanted Items to Goodwill for Free (Lifehacker)
December 1, 2015: Goodwill's Great Idea: Shop, Then Ship Your Clutter For Free (Forbes)
December 1, 2015: Give Back at the Holidays: How to Ship Donations to Goodwill for Free (Parade)
December 1, 2015: Goodwill Makes It Easy for Shoppers to Donate Goods by Mail-for Free (The Chronicle of Philanthropy)
January 16, 2014: Goodwill Opens Charter Schools to Give Dropouts a Second Chance at Education (PBS News)