You know the saying: what's old is new again. That's certainly true when it comes to fashion. Trends that were hot 10, 20, even 30 years ago are suddenly chic and must haves. But let's face it, some "trends" are just downright timeless. And that's one of the many reasons thrift shopping at your local Goodwill is a savvy shopper's dream.
Also, the end of the year and top of a new year tend to see an influx in donations, so that means as people are cleaning out their closets, you can scoop up someone's fashionable castoffs. Not only are you stepping into 2019 on trend, but your purchase also benefits an organization that connect people to services like child care, financial education, and youth mentoring.
And since eighty-two percent of the population lives within 10 miles of a Goodwill store, you won't have trouble finding a convenient location!
Below are five fashion trends for 2019 that you can find at your local Goodwill.
Ruffles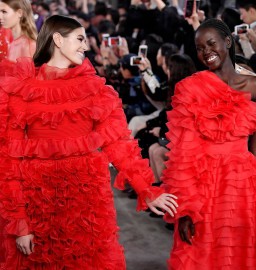 Photo credit: https://www.harpersbazaar.com/fashion/fashion-week/a25321917/valentino-pre-fall-2019-runway/
All things frilly and puffy are still trending pretty strong for 2019. Marc Jacobs and Valentino were just two of the designers showcasing romantic layers of ruffles upon ruffles. However, if you don't have designer money, search the racks at Goodwill for items like a ruffle hem sleeve or even a vintage ruffle dress that's sure to turn heads.
Fanny Packs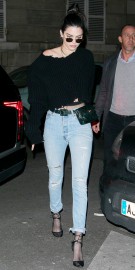 Photo credit: https://www.instyle.com/celebrity/celebrities-wearing-fanny-packs?slide=2919321#2919321
Yes, I said it. Fanny packs. The 80s trend had a major resurgence over the past two years and in particular for 2018, they made up 25 percent of accessory sale growth. That clearly means people are loving the fanny packs, or belt bags as they're more commonly referred to now. Whatever you call them, pick up one while you're out thrifting. It'll be a fun, nostalgic way to accessorize.
Top Handle Bag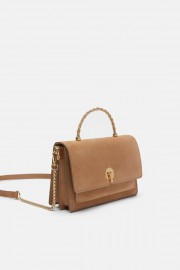 Photo credit: https://www.zara.com/us/en/leather-crossbody-bag-with-handle-p15306304.html?v1=8351069&v2=1074708
On the flip side, a conservative accessory option has to be the top handle bag. These structured purses feature a sturdy handle that makes carrying super easy. Also, if you need a work bag that's not too big, not too small, but classy? Here's your solution. This classy silhouette is sure to be found in the aisles when shopping or you can even check your mom's closet!
Neon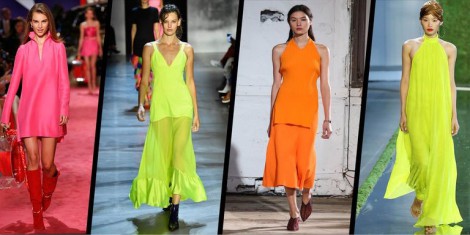 Photo credit: https://www.harpersbazaar.com/uk/fashion/shows-trends/a23059785/neon-bright-colours-trend/
Some trends are more subtle, but there's absolutely nothing subtle about neon, a hot trend for 2019. Hues of bright pink, yellow, orange, and green are sure to turn heads and perk up your mood. And because it's not hard to see neon coming from a mile away, that means you'll have no problem spotting it on even the most crowded of racks. If this is just a bit too much for your style, try neon in small doses like a pair of earrings, a clutch, or even a colorful trim on a blazer.
Suits
Photo credit: https://www2.hm.com/en_us/productpage.0639192002.html
If you've ever gone to a thrift shop (and of course you have!), then you've probably seen this final trend in abundance. I'm talking about suits! The two-pieces are an instant classic and forever on trend, so 2019 is no different. Try to find a structured jacket and slightly wide leg trouser to add major posh points to your work wardrobe. And this look doesn't have to be boring. A bright colored suit is full of fun or try wearing a crop top underneath for a more relaxed vibe. Also, the two pieces can easily be worn together or separately, which maximizes your buck.