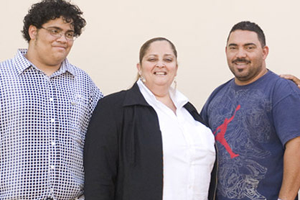 Congress's plate of must do legislation is full as we head into the fall.  Spending bills, debt limit increases, and resolutions on Syria, are big bites to swallow in the short time between now and the end of the year.  A number of other issues, pending decisions in Washington, will have real impact on many of the individuals across the country for whom Goodwill® provides vital services. The following legislative issues are on the table, and will affect Goodwill's ability to help people find jobs and advance in their careers:
Long-overdue improvements to the nation's job training system that would better leverage Goodwill's job training resources and expertise.
Reduced charitable giving incentives that could discourage people from donating resources to local Goodwill agencies.
Reduced funding for job training and supportive services that could limit resources that allow Goodwill and its partners to do more in local communities.
People like former Navy Operations Specialist Juanita Williams stand to be impacted by these decisions.  Juanita, who incurred a spinal injury as a result of a car crash, was led to move to Houston, where she was able to train with Goodwill and earn her certification as an ophthalmologist assistant. Today her advice to other veterans is, "Don't be afraid to ask for help. Goodwill is a possibility."
Last year, Goodwill generated $4.9 billion in its business enterprises and invested 82 percent of its revenues in employment services, job training and supportive services to 6.7 million people. We placed 219,000 people in jobs, and to employed 113,000 people at local Goodwill agencies.
These accomplishments would not be possible without the support of people like you, who shop and donate at your local Goodwill.  One other way you can help is by lending your voice to urge Congress to support programs that allow Goodwill to do more good for the people we serve.
It only takes a few minutes to make a difference, so sign up to make your voice heard today!