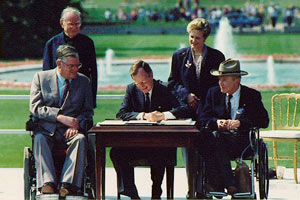 July 26, 2010, marks the 20th anniversary of the signing of the Americans with Disabilities Act (ADA), the first-ever civil rights law for people with disabilities, giving them better access to goods, resources, services and job opportunities.
We celebrate the ADA as a symbol of our nation's commitment to equality, and rejoice in the progress that has been made over the past 20 years as a result of the law. But there is still much to do.
According to the U.S. Department of Labor, the unemployment rate for people with disabilities is higher than 14 percent, much higher than the rate of 9.4 percent for people without disabilities.
Daily marking their commitment to improving that rate are 159 local Goodwill® agencies from coast to coast, as they invest the revenues generated in Goodwill retail stores and other businesses to provide services that help people with disabling and disadvantaging conditions find jobs, earn paychecks and take care of themselves and their families. We provided services to nearly 2 million people in 2009 alone.
Goodwill sees firsthand, each and every day, that more needs to be done to help people with disabilities find jobs and become independent.
Today, Goodwill's efforts to help people to overcome their employment barriers reaches beyond the provision of direct services, to the marble halls of Congress and state capitols. Goodwill is a policy and advocacy resource to policymakers, advocates, and public supporters on a range of issues that promote the power of work to create better lives and communities.
In recognition of this responsibility, and in commemoration of this 20th Anniversary of the ADA, Goodwill Industries International is launching a more robust policy and advocacy web presence, with more resources for policymakers, advocates and other stakeholders.
We hope you'll find these resources useful as we move forward as a nation to provide opportunities for all people to experience the empowerment, independence and dignity that work affords.