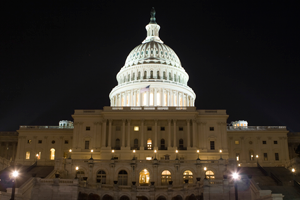 Seventy-five years ago this Halloween Orson Welles and CBS Radio created panic in several parts of the US when they aired a nearly uninterrupted national broadcast of the H.G. Wells novel War of the Worlds. Congress, maybe hoping to top that effort, recently spooked the entire country and most of the financial world by shutting down most of the US government and nearly driving the nation into default.
Today, as with 75 years ago, people didn't appreciate having the wits scared out of them.  Polls show that Congress' ratings are at lows never before reported.  A recent poll found Congress less popular than your state's DMV, potholes, and the IRS—yes even the IRS!  Another poll found that fully 60 percent of voters would vote against their own member of Congress.
Perhaps fearing for their political lives, Congress seems to be trying to repair the damage.  Though the negotiations over the budget will be difficult given the mid-December deadline, both sides are putting forth realistic scenarios for reaching a budget deal.
In addition, the House and Senate conferees appointed to work out differences in the Farm Bill, including the large difference in cuts to the SNAP program, are meeting and again both sides have indicated a willingness to negotiate.  The Senate HELP Committee just approved a bipartisan Older Americans Act reauthorization that includes the Senior Community Service Employment Program (SCSEP), and the committee will soon report out a bipartisan WIA reauthorization, though a full Senate vote isn't expected until next year.
No one is expecting full-blown cooperation to break out anytime soon, but when you are less popular than athlete's foot, even a bitterly divided Congress finds ways to bridge their differences.  So, don't don those member of Congress Halloween masks just yet.
We'll keep you posted over the next several weeks as Congress works into the holiday season to let you know if they've been naughty or nice.