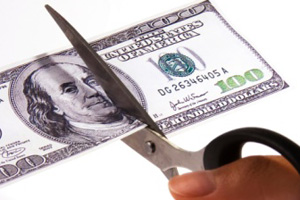 Today, Congress passed a final budget deal to fund the government through the remainder of the fiscal year that ends on September 30, 2011. If signed by the president as expected, the final deal includes an across-the-board cut of 0.2 percent. In addition, several funding sources that local Goodwill® agencies care about will be further reduced as follows:
Combined funding for the Workforce Investment Act's (WIA) three core funding streams will total $2.8 billion, a 6 percent cut amounting to $182 million less than appropriated in FY 2010 funding.

WIA's adult funding stream will be reduced by 10 percent, from $861 million in FY 2010 to $771 million in FY 2011.
WIA's youth funding stream will be reduced by 10 percent, from $924 million in FY 2010 to $827 million in FY 2011.
WIA's dislocated workers funding stream will be reduced by 10 percent, from nearly $1.2 billion in FY 2010 to $1.06 billion in FY 2011.
The bill also provides $125 million for a new Workforce Innovation Fund to encourage states and regional partnerships to engage in systemic reform to improve program outcomes. 

Funding for the Senior Community Service Employment Program (SCSEP) will be reduced from $825 million to $450 million.
Projects with Industry (PWI) will be eliminated.
Funding for the Department of Justice's juvenile justice programs will be reduced by $148 million; however, the extent that this cut would affect funding for youth mentoring is not clear.
Today's action is likely the end of scene one of a multi-part drama that is likely to play out over the course of the next two years. The next fight over spending is likely to occur during the effort to increase the debt limit, which Congress must do in order to keep the U.S. from defaulting on its loans. While most in Congress understand that failing to increase the debt limit would likely create economic chaos worldwide, several conservative House members have signaled that they will oppose efforts to increase the debt limit unless further spending cuts are made.
In addition to the debt limit, Congress is in the midst of developing its budget blueprint for FY 2012. Earlier this month, the House Budget Committee passed a budget bill that includes bold cost-cutting measures, including block granting Medicaid and cutting Medicare, drawing stiff opposition from House and Senate Democrats alike. Unless the House bill is tempered, it is certain to be dead on arrival in the Senate. The scenario causes many Beltway insiders to believe that Congress may be unable to agree to a final budget resolution, an event that will only complicate efforts to pass FY 2012 appropriations bills.
In the likely event that Congress fails to pass appropriations bills for FY 2012 by the start of the fiscal year, Congress will be left with little choice but to enact short-term temporary spending bills as it had to do this year, each time providing an opening for cutting programs that may have been spared this week, but remain vulnerable to future cuts.
For more information, contact Seth Turner, GII's senior director of government affairs and public policy.