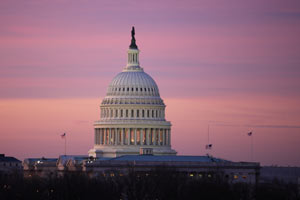 Congress returned from the Summer recess to staggering reports, such as the unemployment rate hovering near 9.6 percent, and one in seven people living in poverty last year. Although congressional time is limited before the Election Day recess – set tentatively for October 8 – lawmakers remain hopeful that at least a few employment-related bills can get through the Congress, either before the recess or during a possible lame-duck session after the election.
Lawmakers are certain that they will once again have to pass a continuing resolution to keep much of the government running in the new fiscal year, which starts October 1. Democratic leaders have decided that the Senate will act first on the Fiscal Year 2011 continuing resolution, and talks are ongoing about the measure and what it will contain.

Job Creation and Tax Cut Act, WIA and TANF
Also up for possible congressional movement is Job Creation and Tax Cuts Act of 2010. The bill proposes to spend $1 billion for Workforce Investment Act "grants to states for youth activities," and an additional $1.5 billion for basic assistance for families, short-term, one-time aid for needy families, and subsidized employment programs under the Temporary Assistance for Needy Families (TANF) program. The bill would also extend the deadline for the use of TANF funds through September 30, 2011. Several local Goodwill® agencies have created subsidized employment programs through the use of TANF funds.
Last week, the Senate struck down two amendments that would have repealed a tax-reporting requirement in the new health care overhaul law, specifically, a provision that required companies and non-profits to file 1099 forms to the IRS for purchases from corporate vendors that total more than $600 in a tax year, beginning in 2012. Efforts to repeal this provision of the health care bill are likely to continue into the next Congress.

Employee Free Choice Act
Finally – and perhaps the most controversial employment legislation – the Employee Free Choice Act (S. 560, H.R. 1409), which has not seen any legislative action in about 18 months, has some lawmakers talking. If passed, this bill would amend the National Labor Relations Act to give workers the option to form a union through a National Labor Relations Board check of authorization cards signed by a majority of employees. Though one of the bill's biggest proponents, Senator Harkin (D-IA), has urged its passage for some time, the Senate does not have the 60 votes to override a potential filibuster by Senate Republicans.
Goodwill Industries International continues to monitor these issues and provide updates as they occur. For more information please contact [email protected]