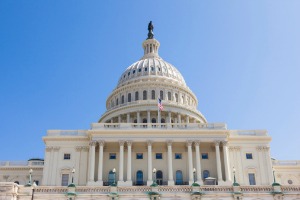 For the first time in 15 years the House and Senate Budget Committee chairs announced a deal on a ten year budget resolution that sets the broad parameters of spending and revenues.  If approved, outlays, or spending, grow from $3.88 billion for FY 2016 to just over $5.0 billion in FY 2025.  Revenues would also increase slightly more than outlays by 2024, meeting the GOP goal of achieving a balanced budget within ten years.
The problem is that the budget resolution has some neat tricks.  It anticipates dramatically increasing revenues, yet also repeals the Affordable Care Act and its one trillion dollars over ten years in revenues.  It closes that gap by projected GDP growth that would more than rival the growth of the late 1990s, something almost all economists believe won't happen.
The budget resolution proposes increases in outlays but those increases are mostly on national defense and cut even the most popular domestic programs to account for those increases.  As House appropriators move on the very first FY 2016 spending bills it is clear that the spending targets in the yet to be approved budget resolution won't be met.
So, what's the point you ask?  The budget resolution reflects the broad policy priorities of the party that drafts and approves it.  No legislation that Congress votes on says more strongly, "This is what we stand for."  Few, if any, Democrats are expected to vote for the budget resolution when it comes to floor.
The real work will be done in the appropriations committees.  Goodwill® is already meeting with those members of Congress to ensure that funding for workforce programs, Pell grants, and other programs that leverage Goodwill's mission are secure.  Just holding the line against cuts in these tough fiscal times will be a challenge but you can help by letting your voice be heard at www.goodwill.org/advocate and signing up for our Legislative Action Center.