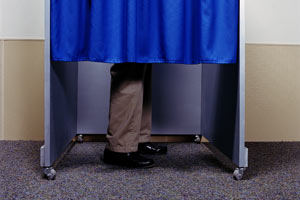 Anxious members of Congress adjourned last week in order to hit the campaign trail for the November election. If Democrats maintain control of Congress, it will likely approve an "omnibus" FY 2011 spending bill or, if Republicans win control of Congress, it could pass the buck to the new 112th Congress when Republicans will be in a stronger position to shape FY 2011 appropriations.
Republicans and Democrats have outlined their different economic and job-creation strategies to set the stage for Decision 2010. Republicans, with their "Pledge to America," propose to focus on deficit reduction by capping domestic discretionary spending, while stimulating job growth by extending all the Bush-era tax cuts and cutting taxes for small businesses by 20 percent.
Democrats – while acknowledging that current spending cannot be sustained – counter that taking steps now to reduce the deficit could jeopardize the still-fragile economic recovery. They also propose to extend the Bush-era tax cuts to all but the wealthiest Americans, and to promote job growth in a number of ways. For example, a bill recently introduced by Sen. Dick Durbin (D-IL) proposes tax cuts for businesses that move overseas jobs back to the U.S.
While a source of much debate, it seems highly likely that the new 112th Congress' Republican-to-Democrat ratio is going to be razor thin and the debate about how to strengthen the economy and create jobs is likely to be intensely partisan and bitter. That can be good ground for scoring political points as a Presidential election approaches, but difficult terrain for passing legislation that is not perceived by lawmakers as bipartisan or critical, such as a response to a disaster.
In addition, due to concerns about deficit spending, domestic spending may be frozen at current levels for the foreseeable future. With an increasing list of national priorities, proponents for existing programs will be fighting to maintain current levels and should not expect any dramatic increases.
Goodwill will continue to urge members of Congress on both sides of the aisle to approve policies that leverage the knowledge, strengths and resources of community-based organizations like Goodwill to help people find jobs and access careers. To show your support for Goodwill, visit our legislative action center and voice your alignment with policies that help local Goodwill agencies help people to overcome their employment challenges.
For more information, contact Seth Turner, Goodwill Industries International Senior Director of Government Affairs and Public Policy, or post a comment below.