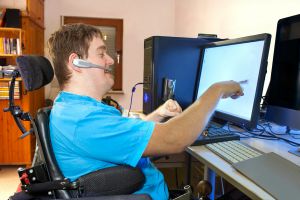 This week marks the 25th anniversary of the signing of the Americans with Disabilities Act (ADA) which prohibits discrimination against people with disabilities in employment, education, and public accommodations.
Goodwill® has been dedicated to supporting employment opportunities for people with disabilities, among others, since its founding more than 113 years ago.  The following are examples of the programs and employment services provided by Goodwill for people with disabilities:
·   Individualized job placement and support services
·   Supported employment services
·   On-the-job training
·   Work assessment and evaluation
·   Rehabilitation programs that assist individuals with physical recovery
·   Resources for farmers and ranchers with disabilities through the AgrAbility partnership
·   Occupational skills training
·   Job retention and/or career advancement services
·   Career centers that assist with job searches, writing résumés and strengthening interview skills
·   Assistance with state and federal tax filing
·   E-learning
Goodwill believes everyone should have the opportunity to live independently, earn wages, and achieve their dreams.  Despite the great advances that have been made since the passage of the ADA particularly in public policy and technology, more can be done to eliminate barriers faced by people with disabilities, especially those with significant disabilities.
While disability employment rates are improving as an increasing number of people with disabilities are on the job, struggles still exist when compared to the workforce as a whole.  Nearly 80 percent of people with disabilities are not a part of the labor force. Furthermore, the unemployment rate for people with disabilities is nearly double than those without a disability.
As disability advocates and service providers take this time to reflect on the past and celebrate this milestone in our country's history, let us not forget the future.  Let's challenge ourselves to be innovative, more inclusive, change policies that can help improve the lives of people with disabilities and their families for the next 25 years and beyond.
You can help support employees with disabilities in your area by registering for the Legislative Action Center so people can speak up for the rights of people with disabilities and the program that we provide.