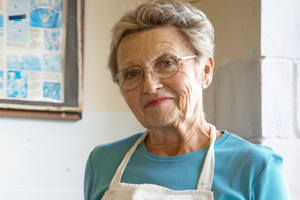 Goodwill® strives to meet the needs of all job seekers by providing education, skills training and access to employment opportunities. As the nation's workforce evolves to include more older workers, so too do our programs and services for this population.
Whether by choice or financial necessity, baby boomers are remaining in the workforce longer and redefining what retirement means. The latest projections indicate that workers 55 and over will make up 25 percent of the U.S. civilian labor force by 2020. The number of workers over the traditional retirement age of 65 is also seeing a marked increase, with this population poised to make up more than 7 percent of the American labor force within the next five years.
National Employ Older Workers Week, held annually the last full week of September, recognizes the vital role of older workers in the workforce. It also showcases the Senior Community Service Employment Program (SCSEP), which provides on-the-job skills training to individuals 55 or older with limited financial resources. Since its inception in 1965, SCSEP has helped more than one million older Americans enter the workforce.
Goodwill agencies in 14 states are providing services under the SCSEP program, and last year they helped more than 2,700 seniors put their years of experience and reliability to work in today's workforce.
Are you an older worker or know one in need of support? Find a SCSEP initiative in your community.