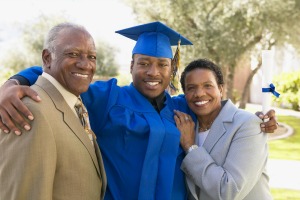 Since 1902, Goodwill has been helping people find jobs despite employment challenges. Much has changed since our founder, Edgar Helms, opened the first Goodwill store in south Boston, providing jobs and much needed wages to people in the economically distressed neighborhood. Back then, a solid education was certainly nice to have; today however, access to education is an absolute necessity if one is to succeed in a job and advance in a career.
Consider these facts:
Unemployment for people with an associate degree (9.4 percent) is nearly 3 percent lower than for people with a high school diploma.
By 2018, 60 percent of jobs will require some form of post-secondary education.
People with an associate degree ear more than $6,000 per year more than people with a high school diploma, who in turn earn $7,000 a year more than people with some high school.
Clearly, educational attainment is important, but it's the "why" that is critical; meaning, educational attainment needs to align with labor market trends and in credentials and certificates that employers recognize and value. Educational attainment that is not aligned to the labor market only serves to exacerbate the skills gap, making it difficult for employers to fill jobs while leaving many students with debt accrued in pursuit of credentials that have little value.
Furthermore, for many hopeful career advancers, completing educational objectives can be easily derailed by one of life's many curveballs; if a person loses their child care, their transportation is unreliable, their housing is unstable, if they or a family member become ill.
In 2009, Goodwill launched the Community College/Career Collaboration (C4) because it recognized that educational attainment is a critical component to advancing people from entry-level jobs into careers that pay family-sustaining wages. The C4 initiative enhances local Goodwill agencies' collaboration with community colleges by combining their assets and resources to ease access to education, job training and other supportive services for individuals who need credentials that employers seek.
Community-based organizations, like Goodwill, could do more to help people in communities to achieve their educational goals and advance in careers. As Congress advances legislation, such as the Higher Education Act or The Carl D. Perkins Career and Technical Education Act, it should leverage the expertise of community-based organizations that can enhance our nation's capacity to support people who are seeking career advancement opportunities.